HOME | PRODUCTS | VSI crusher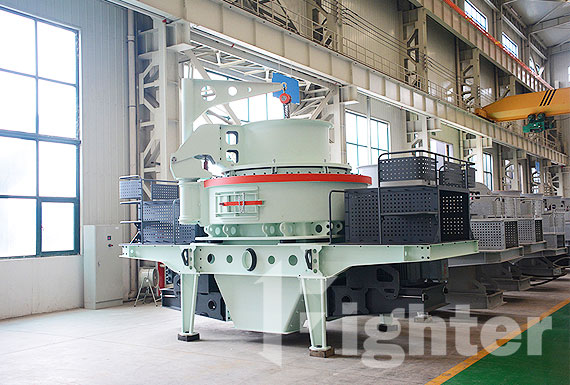 Processed Materials:
Sand and gravel yard, concrete sand making, dry mortar, machine-made sand, power plant desulfurization, quartz sand, etc.
Applications:
Sand and gravel yard, concrete sand making, dry mortar, machine-made sand, power plant desulfurization, quartz sand, etc.
Type:VSI crusher Input:≤50mm
+ Overview
VSI sand making machine is a model of the combination of mature crushing technology and mechanical technology. Its special rotor structure design, wear-resistant material technology, crushing speed optimization and hydraulic design can be used for highways, high-rise buildings, construction, Dam construction and concrete mixing stations and can provide good-quality sand and gravel aggregates, which are ideal equipment which can be used in the field of artificial sand .
+ Learn More About VSI crusher
1.The feeding methods can be converted
The conversion between the two feeding methods of complete center feeding and center feeding with waterfall feeding can easily be realized, and the conversion from"stone-on-rock" to "stone-on-iron" can also be realized . it is a machine with multiple functions to adapt to Different requirements.
2.Adjustable fineness
The product has excellent grain shape, cubic shape, low needle-flaky content, uniform grading, and low iron pollution. It is suitable for aggregate shaping, artificial sand making and high-grade highway aggregate production .
3.Automatic detection is safe and reliable
Equipped with alarm device, if the equipment goes wrong, a warning which can stop the equipment so as to achieve the purpose of protecting the equipment.
4.Environmental protection and less pollution
The unique air circulation system greatly reduces the amount of external air pollution, dust pollution, and is environmentally friendly. In addition, the specific position of the crusher is also suitable for installing various equipment which can remove the dust.
+ Specifications - Technical Data
VSI6X Crusher
Model
VSI6X1263
VSI6X1150
VSI6X1040
VSI6X9026
VSI6X8018
Central feeding(t/h)
Crushing
454-486
344-368
264-283
109-117
109-117
Re-Shaping
545-583
413-442
317-342
131-140
131-140
Maximum(mm)
Crushing
≤50
≤45
≤40
≤35
≤30
Re-Shaping
≤60
≤55
≤50
≤45
≤40
Main shaft speed(r/min)
900-1200
1000-1300
1100-1400
1200-1500
1300-1700
Power(kW)
315×2
250×2
200×2
132×2
90×2
VSI5X Crusher
Model
VSI5X7615
VSI5X8522
VSI5X9532
VSI5X1145
Throughput capacity (t/h)
Center and Ring feeding
150~280
240~380
350~540
500~640
Center feeding
70~140
120~190
180~280
250~360
Max. Feed Size (mm)
Soft material
<35
<40
<45
<50
Hard material
<30
<35
<40
<45
Rotation speed (r/min)
1700~1900
1500~1700
1300~1510
1100~1310
Power of double motor (KW)
2×75 (100)
2×110 (150)
2×160 (220)
2×220 (300)
Overall dimension L×W×H (mm)
4100×2330×2300
4140×2500×2700
4560×2600×2900
5000×2790×3320
Weight (t)
8.6
11.8
17.5
27.5
Thin oil lubrication station
Power for double oil pump
2×0.25(0.33)
Safety
TO make sure the supply of the oil with double oil pump; stop working without oil or hydraulic pressure; temperature falls when the water cool;start the motor by heating it in winter
Power for oil box heater
2 KW
Overall dimension L×W×H (mm)
820×520×1270
Note: Capacity depends on crushing limestone, material size, moisture and features also affect capacity.