Gyratory crusher
HOME | PRODUCTS | Gyratory crusher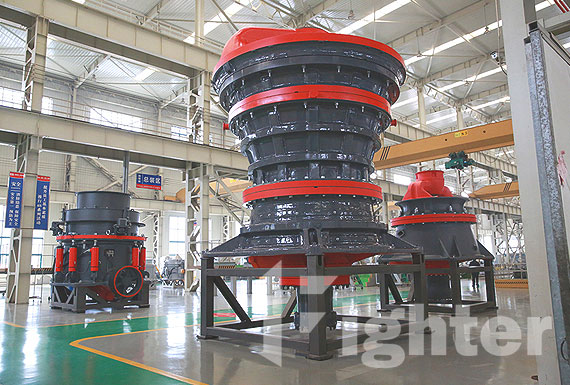 Processed Materials:
Granite, marble, basalt, limestone, quartz stone, river pebble, cobblestone, bluestone, etc.
Applications:
Aggregate field concrete mixing station dry mortar power plant desulfurization quartz sand etc.
Type:Gyratory crusher Input:
+ Overview
A gyratory crusher includes a solid cone set on a revolving shaft and placed within a hollow body, which has conical or vertical sloping sides. Material is crushed when the crushing surfaces approach each other and the crushed products fall through the discharging opening.
+ Learn More About Gyratory crusher
The gyratory crusher can, just like a jaw crusher, accept boulder sizes close to 1.5 m (for the largest equipment).
1. This crusher can handle products with a Mohs hardness that is not necessarily less than 5.
2. As is the case for jaw crushers, there is not any mutual sliding on grinding surfaces, but simply rolling of the nut on concaves. Wear is then uniform and minimum.
3. However, the gyratory crusher is sensitive to jamming if it is fed with a sticky or moist product loaded with fines. This inconvenience is less sensitive with a single-effect jaw crusher because mutual sliding of grinding surfaces promotes the release of a product that adheres to surfaces.
4. Wear is maximum at the lower part, because at this location compression forces are exerted on the entirety of grinding surfaces.
5. The profile of active surfaces could be curved and studied as a function of the product in a way to allow for work performed at a constant volume and, as a result, a higher reduction ratio that could reach 20. Inversely, at a given reduction ratio, effective streamlining could increase the capacity by 30%.
6. The typical reduction ratio is bound to be between 6 and 8 and is similar that of jaw equipment.
7. Applying the crushing force by rolling the nut breaks flats and gives a product that is more "cubic" than the jaw crusher.
8. The largest-scale equipment can treat a flow with the magnitude of 4,000 tonne.h− 1.
9. With a production rate and flow that are equal, the power consumed by a gyratory crusher is similar to a jaw crusher.
+ Specifications - Technical Data
| | | | | | |
| --- | --- | --- | --- | --- | --- |
| Model | Inlet size (mm) | Outlet size (mm) | Capacity (t/h) | Power (kw) | Dimensions(mm) |
| HGT 4265 | 1065 | 140-175 | 2015-2875 | 400 | 3940×4170×6900 |
| HGT 5065 | 1270 | 150-175 | 2400-2940 | 400 | 4460×4430×7610 |
| HGT 5475 | 1370 | 150-200 | 2890-3490 | 450 | 4930×4925×8410 |
| HGT 6275 | 1575 | 150-200 | 2895-4335 | 450 | 5580×5250×9090 |
| HGT 6089 | 1525 | 165-230 | 4200-5810 | 630 | 5590×5445×10470 |
| HGT 60110 | 1525 | 175-250 | 5540-8895 | 1250 | 6200×5940×11390 |