Cone crusher
HOME | PRODUCTS | Cone crusher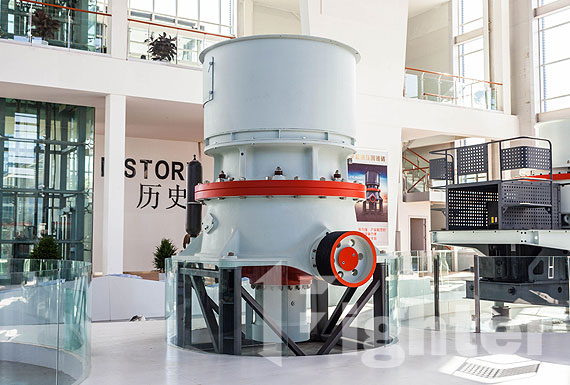 Processed Materials:
River stone, granite, basalt, iron ore, limestone, quartzite, diabase, iron ore, gold ore, copper ore, etc.
Applications:
Sand and gravel field, mining, concrete mixing plant, dry mortar plant, power plant desulfurization, quartz sand, etc.
Type:Cone crusher Input:80-350 mm
+ Overview
Cone crusher is specially designed to be used for medium crushing, fine curshing and ultra-fine crushing in mining, construction sand and gravel processing. We have three types of cone crushers: CS series cone crusher, HST hydraulic cone crusher, HPT hydraulic cone crusher. Our cone crushers have the advantages of high crushing efficiency, low production cost, convenient maintenance and adjustment, and excellent particle size of finished products. With full automatic control system, cone crusher can realize accurate regulation.
+ Learn More About Cone crusher
1. Fully automatic intelligent control.
2. Special crushing design improves production capacity and efficiency.
3. Between-layer pressuring crushing, and excellent grain shape.
4. Automatic overload protection.
5. Easy to replace wearing parts and low operating cost.
6. Hydraulic adjustment helps to adjust the equipment quickly and is easy to maintain.
7. Thin oil lubrication makes the life time increased.
8. The wide and flexible adjustment range can meet various production demands.
+ Specifications - Technical Data
HPT Hydraulic Cone Crusher
Type
Cavity (coarse/fine)
Close Side feed opening(mm)
Min CSS (mm)
Capacity (tPh)
Power KW(HP)
HPT300
C1 Extra Coarse
230
25
220-440
250(350)
C2 Coarse
210
20
190-380
M Medium
150
16
175-320
F1 Fine
105
13
110-260
F2 Extra Fine
80
10
100-240
HPT500
C1 Extra Coarse
330
38
425-790
400(500)
C2 Coarse
290
30
380-700
M Medium
210
22
330-605
F1 Fine
130
16
270-535
F2 Extra Fine
95
13
200-430
HPT800
C1 Extra Coarse
350
38
545-1200
630(850)
C2 Coarse
300
32
495-1050
M Medium
265
25
470-950
F1 Fine
220
17
385-730
F2 Extra Fine
150
14
310-600
F3 Extra Fine
90
10
260-550
HST Hydraulic Cone Crusher
Model
Cavity
Maximum feed size(mm)
CSS min-max(mm)
Capacity(tph)
Power KW(HP)
Dimension (L×W×H) (mm)
Weight (t)
HST100
S1(Extra Coarse)
240
22-38
85-170
90(125)
1535×1275×2710
9.6
S2(Medium Coarse)
200
19-32
70-130
HST160
S1(Extra Coarse)
360
25-54
120-345
132(175)
2045×1635×3040
15.5
S2(Medium Coarse)
300
22-48
105-305
S3(Coarse)
235
19-48
90-275
HST250
S1(Extra Coarse)
450
35-54
255-605
220(300)
2675×2550×3940
28
S2(Medium Coarse)
400
29-51
215-515
S3(Coarse)
300
25-51
190-490
HST315
S1(Extra Coarse)
560
41-76
335-1050
315(400)
3110×2945×4480
43.5
S2(Medium Coarse)
500
38-70
305-895
Model
Cavity
Maximum feed size(mm)
CSS min-max(mm)
Capacity(tph)
Power KW(HP)
Dimension (L×W×H) (mm)
Weight (t)
HST100
H1(Fine)
135
10-32
45-130
90(125)
1540×1280×2300
7.5
H2(Medium Fine)
65
8-19
35-80
H3(Extra Fine)
38
4-16
27-60
HST160
H1(Fine)
185
13-38
66-210
132(175)
2000×1550×2600
10
H2(Medium Fine)
90
10-32
65-165
H3(Extra Fine)
50
6-25
48-105
HST250
H1(Fine)
215
16-44
110-395
220(300)
2315×1830×2940
19.5
H2(Medium Fine)
110
13-38
115-340
H3(Extra Fine)
70
8-32
90-255
HST315
H1(Fine)
275
16-51
170-665
315(400)
2740×2200×3590
28.5
H2(Medium Fine)
135
16-38
190-505
H3(Extra Fine)
65
13-22
205-320
HST560
H1(Fine)
300
22-70
448-1331
560(750)
3300×2600×4463
51
H2(Medium Fine)
155
19-70
400-1098
H3(Extra Fine)
80
10-44
280-669
HST750
H1(Fine)
370
25-70
480-2500
630(850)
3800×3100×5305
80
H2(Medium Fine)
195
22-70
552-1115
H3(Extra Fine)
80
10-51
364-790