Jaw crusher
HOME | PRODUCTS | Jaw crusher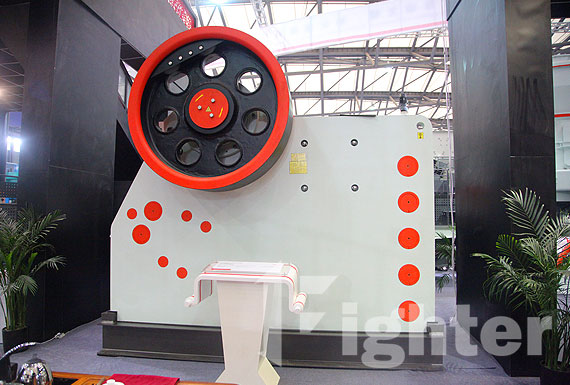 Processed Materials:
limestone, river stone, granite, basalt, iron ore, gold ore, copper ore, slag, etc.
Applications:
Mining, metallurgy, construction, cement, highway, railroad, refractory material, ceramics, etc.
Type:Jaw crusher Input:200-1000 mm
+ Overview
Jaw crusher produced by Fighter Corporation is used in the first process of coarse and medium crushing various minerals and rocks. It is often combined with impact crusher, cone crusher, sand making machine, etc. to form a complete sand and gravel crushing production line. The advantages of high efficiency, strong crushing capacity and low investment cost make jaw crusher popular in mining, metallurgy, and other industries. At present, Fighter Corporation's jaw crushers are mainly divided into PE jaw crusher and C6X series jaw crusher.
+ Learn More About Jaw crusher
Why choose jaw crusher produced by Fighter Corporation:
1. Used for the primary crushing of large materials.
2. The large and deep crushing cavity structure realizes high crushing efficiency.
3. Simple, efficient and safe adjustment of the discharge opening, and the finished product size is uniform.
4. High-quality raw materials and reliable design increase the service life of the equipment and reduce maintenance costs.
5. Simple structure, easy maintenance, low operating cost.
+ Specifications - Technical Data
C6X Series Jaw Crusher
Model
C6X80
C6X100
C6X110
C6X125
C6X145
C6X160
C6X200
Feed opening length(mm)
800
1000
1100
1250
1450
1600
2000
Feed opening width(mm)
520
760
850
950
1100
1200
1500
Power KW(Kw)
75
110
160
160
200
250
400
Speed(rpm)
350
260
230
220
220
220
200
Dimension(mm)
Discharge opening(mm)
T/h
T/h
T/h
T/h
T/h
T/h
T/h
0-90
60
80-110
0-105
70
70
100-135
0-120
80
110-150
150-200
160-240
0-135
90
130-175
170-220
180-260
0-150
100
145-190
190-250
200-280
240-340
0-185
125
180-245
235-310
250-360
280-410
320-470
0-225
150
225-290
280-360
300-430
340-480
370-550
420-610
0-260
175
330-420
340-490
370-550
430-630
470-700
620-890
0-300
200
380-550
420-620
480-710
530-790
690-1000
0-340
225
470-690
540-790
590-880
770-1100
0-375
250
520-760
600-870
650-970
850-1200
0-410
275
660-950
700-1060
930-1300
0-450
300
750-1100
1000-1500
European Type Jaw Crusher
| | | | | | | | |
| --- | --- | --- | --- | --- | --- | --- | --- |
| Model | Feed opening (mm) | Maximum feed size(mm) | CSS min-max(mm) | Capacity(tph) | Power KW(HP) | Dimension (L×W×H) (mm) | Weight (t) |
| PEW200×1300 | 200X1300 | 150 | 10-30 | 12-35 | 30(40) | 1320X2150X1176 | 6 |
| PEW250×1000 | 250X1000 | 220 | 20-40 | 15-50 | 30(40) | 1400X1850X1310 | 6 |
| PEW250×1200 | 250X1200 | 220 | 20-40 | 20-50 | 37(50) | 1450X2150X1175 | 7 |
| PEW400×600 | 400X600 | 350 | 35-85 | 15-70 | 37(50) | 1920X1460X1840 | 7.5 |
| PEW760 | 760X1100 | 620 | 75-200 | 150-350 | 110(150) | 2950X2360X2760 | 24 |
| PEW860 | 840X1100 | 720 | 100-225 | 200-500 | 132(175) | 3300X2320X3120 | 32 |
| PEW1100 | 1100X1200 | 940 | 150-275 | 300-650 | 185(250) | 4140X2660X3560 | 59.2 |
Jaw Crusher
| | | | | | | | |
| --- | --- | --- | --- | --- | --- | --- | --- |
| Model | Feed opening (mm) | Max. Feeding Size (mm) | Adjustable Discharge opening (mm) | Capacity (t/h) | Motor Power (kW) | Overall Dimensions (mm) | Weight (t) |
| PE250×400 | 250X400 | 200 | 20-60 | 5-20 | 15(20) | 1150×1275×1240 | 2.8 |
| PE250x1000 | 250X1000 | 210 | 15-50 | 15-50 | 30(40) | 2790x2670x1380 | 6.5 |
| PE400×600 | 400X600 | 350 | 40-100 | 15-60 | 30(40) | 1700×1732×1653 | 6.5 |
| PE500×750 | 500X750 | 425 | 50-100 | 50-100 | 55(75) | 2035×1921×2000 | 10.3 |
| PE600×900 | 600X900 | 500 | 65-160 | 60-130 | 75(100) | 2290×2206×2370 | 16 |
| PE750×1060 | 750X1060 | 630 | 80-140 | 110-250 | 110(150) | 2620×2302×3110 | 27 |
| PE900×1200 | 900X1200 | 750 | 100-200 | 160-380 | 130(175) | 3789×2826×3025 | 46.5 |
| PE1000×1200 | 1000X1200 | 850 | 200-300 | 315-550 | 130(175) | 3889×2826×3025 | 56 |
| PE1200×1500 | 1200X1500 | 1000 | 150-350 | 400-800 | 200(270) | 4930X3148X3560 | 88 |