Dear customers of the Russian Federation:
Fighter has always received the love and strong support of Russian friends. Fighter would like to express my heartfelt thanks here!
Fighter has been deeply involved in the crushing and grinding industry for more than 30 years, and has always focused on the research and development and manufacturing of large-scale equipment required for infrastructure construction projects such as mining, construction and energy, and has the ability to provide customers with professional single sets of equipment and EPC one-stop Solutions and mature supporting equipment, and have successfully served more than 20,000 customers in more than 170 countries and regions around the world.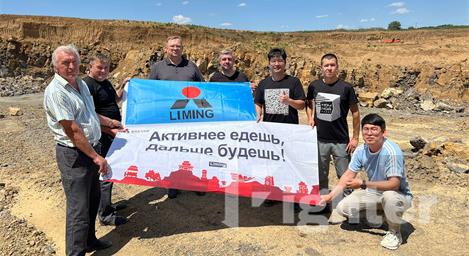 As a friendly neighbor and cooperative partner of China, Russia has been cooperating practically in various fields. The Russian region is a strategic friendly foreign trade zone of Fighter, and we have been committed to promoting the development of harmonious and sustainable relations between the two sides. Based on this, Fighter dispatched design engineers, construction and maintenance engineers and account managers to Russia from mid-June to October to provide local customers with complete sets of application solutions and services for grinding projects.
During this period, in order to promote pragmatic cooperation in sustainable development, you can contact us through the following methods
Chat us:
Pioneering and innovative, inclusive and win-win. Fighter looks forward to working with you to contribute to a new stage of global development that is balanced, coordinated and inclusive!
Sincerely!