There are three main types of cobblestone crushers produced by FIGHTER that meet the discharge specification of not more than 3Omm, namely jaw crusher, impact crusher and cone crusher.
The jaw crusher is mainly composed of two jaw plates, the movable jaw and the static jaw, which form a crushing cavity, which simulates the movement of the two jaws of animals to complete the material crushing operation. It is widely used in medium-sized crushing of various ores and bulk materials in mining, smelting, building materials, highways, railways, water conservancy and chemical industries. The higher compressive strength of the crushed material is 320Mpa.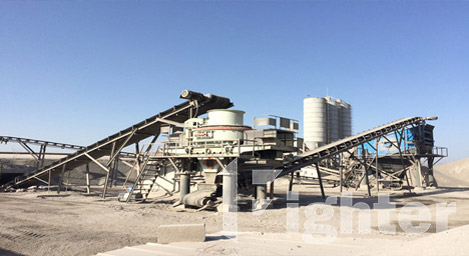 The impact crusher is characterized by small size, simple structure, large crushing ratio (up to 40), low energy consumption, large production capacity, uniform product particle size, and selective ore crushing effect. But its disadvantage is that the blow hammer and the impact plate are particularly easy to wear, especially when crushing hard ores, the wear is more serious and needs to be replaced frequently. At present, due to the emergence of some wear-resistant materials, it has been used in some metal concentrators.
Cone crusher is a type of vertical crusher like sand making machine, which uses the extrusion and crushing between the moving cone and the fixed cone. Cone crusher is also mainly used for cobblestone crushing and the supporting operation of the whole set of cobblestone crushing production line.