SMP modular crushing production line, based on the demand for on-site crushing for sand and gravel, on the basis of fixed and mobile production line applications, through the pre -designed crushing and screening module and on-site layout plan, a highly convenient module combination type quick production line is launched. To maximize the rapid delivery and fast assembly, it is 30%-40% faster than the traditional production line. At the same time, the overall reliability is high, which meets international relevant security design standards. It does not require large-scale to build a concrete foundation, which is more in line with environmental protection requirements.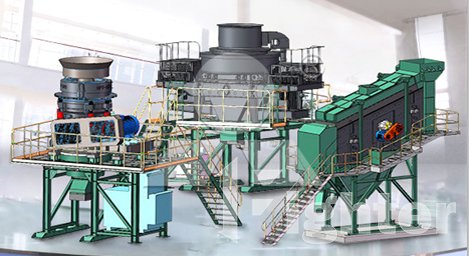 Industry use: quarry, metallurgical mines, building materials, highways, railways, water conservancy, chemical industry and other industries are mainly used for crushing, screening, shaping, sand making and construction waste for various stones.
Application materials: river pebbles, granite, basalt, iron ore, limestone, quartz stone, diabase, iron ore, gold ore, copper ore, construction waste, etc.
Output range: 75-300TPH-450TPH small and medium-sized output production line.
The features of SMP modular production line:
Complete set of plant, perfect, smooth and scientific economy
1.There is only a small work amount at site,asmall amount of concrete or no concrete foundation;
2.All modules are configured with a sled support,no anchor boltdesign,
3.Can be easily installed on the spot;
4.Easy debugging, optional electrical control of different configurations;
5.Short delivery time and fast delivery;
6.Free matching can also be used to upgrade and expand existing old production lines;
7.The larger warehouse volume, and at the same time, it is equipped with a mid -buffer warehouse to provide stable materials for crusher, achieve continuous production, and provide conditions to improve efficiency.