HST series single-cylinder hydraulic cone crusher is developed by adopting advanced crushing technology, integrating mechanical, hydraulic, electrical, intelligent control and other technologies. The new crusher structure, combined with the optimized laminated crushing cavity, and the fully intelligent automatic control system, make the HST series single-cylinder hydraulic cone crusher have the performance characteristics of traditional cone crushers: a variety of optional cavity types, easy to adjust and maintain , The product has a cubic shape and can be widely used in medium crushing, fine crushing and ultra-fine crushing operations.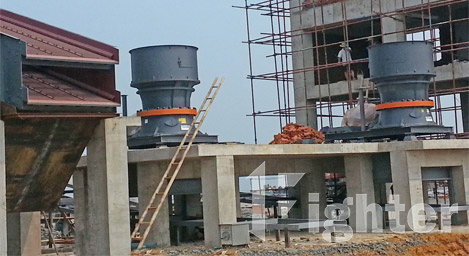 The single-cylinder hydraulic cone crusher has 6 major functions:
1.Large production capacity and high crushing efficiency;
2.Laminated and broken, the product has good grain shape;
3.A variety of cavity types combined with stroke, suitable for a variety of particle size requirements;
4.Long-life liner;
5.Simple structure, easy maintenance, low operating cost;
6.The automatic control system adopts PLC+touch screen control mode, real-time monitoring of core parameters such as temperature, pressure, current, and automatic control to ensure the safe operation of the equipment.
Fighter has been committed to the development and production of mining machinery for 30 years, focusing on high-quality products and efficient services. It is our unremitting pursuit to satisfy customers.