Artificial sand is also called machine-made sand. With the progress and development of cities and the construction of roads, buildings, construction sites and other facilities, natural sand is far from meeting people's needs. At this time, artificial machine-made sand that replaces natural sand has emerged.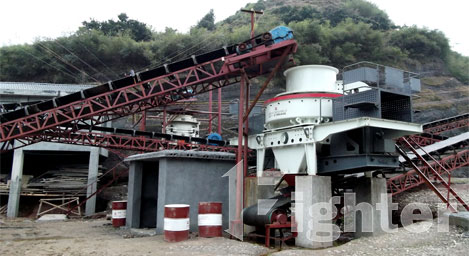 It solves people's demand for natural sand. Performance characteristics of artificial sand making machine:
1.Large processing capacity and high output
The production capacity from 50to 500t/h, compared with the traditional equipment under the same power, the output is increased by about 30% and is stable.
2.Low consumption of wearing parts
The best crushing cavity material impact angle design, less friction with wear parts, about 30% lower than the operating cost of traditional equipment, indirectly reducing the cost of equipment use.
3.Excellent product shape
The product is cubic, with good grain shape, reasonable gradation, and adjustable fineness modulus; it is especially suitable for manual sand making and stone shaping.
4.Hydraulic device, easy to maintain
Hydraulic lid opening device makes the parts in the crushing chamber easy to repair and replace, shorten the downtime, save time and effort.
5.Automatic detection, safe and reliable
Vibration display and alarm devices have been installed. If the equipment malfunctions, a warning can be issued to stop the equipment to protect the machine.
6.One machine with multiple functions, flexible application
The unique feeding crushing structure, with multiple crushing cavity types, can easily realize the conversion between "stone-on-rock" and "stone-on-iron", thus solving the problem of multiple uses in one machine. If you want to change the application of the VSI crusher, there is no need to make major adjustments, and it can meet the different needs of users: artificial sand making, crushed stone shaping, abrasive materials, etc.
Contact online customer service for more details and prices of the sand making machine!