GROUP
NEWS
Crushing process and equipment
According to the number of stages, the crushing and screening process can be divided into two types: one-stage and multi-stage.
One-stage process is mostly used in concentrators using autogenous mills, and most of them are open-circuit operations. The particle size of the final crushed product is 350~0mm or 250~0mm.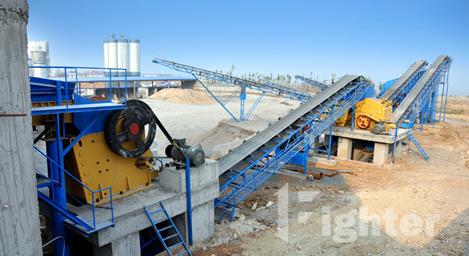 In the last stage of the multi-stage process, the fine crushing operation usually forms a closed circuit with the screening equipment. The crushing equipment is divided into coarse crushing, medium crushing and fine crushing according to the different particle sizes of the crushed products.
For coarse crushing, jaw crusher and gyratory crusher are commonly used. The ore size for painting and open-pit mining is 1000-0mm, and the ore for underground mining is 600-0mm. The standard cone crusher is commonly used in medium crushing. The feeding particle size is generally 350-0mm. The short-head cone crusher is commonly used for fine crushing, and the feeding particle size is generally 75-0mm.
At present, most of the concentrators have changed the medium and fine crushing to HP-type or H-type cone crushers, which increases the crushing capacity and reduces the particle size of the crushed products. Generally, it is 15 (12) ~ 0mm, which achieves the purpose of more crushing and less grinding, energy saving and consumption reduction.
Related News...
The equipment for mineral powder production line with an annual output of 50,000 tons2023-11-22
Promote joint construction of green mines and low-carbon development2023-11-16
200-400 mesh calcite grinding equipment2023-11-08
Fighter Russia office moved to Moscow2023-11-02
What crusher is used for bluestone crushing?2023-11-22
The equipment for metal ore processing2023-11-16
Complete vermiculite grinding production line configuration2023-11-15
What equipment should be used for granite crushing processing?2023-10-30