GROUP
NEWS
Copper ore beneficiation crushing, grinding production line process and equipment
The processing and production process of copper ore mainly includes three processes: crushing, grinding and beneficiation.
The first stage: crushing, screening three-stage closed-circuit crushing
The large copper ore is evenly sent to the jaw crusher or mobile jaw crusher (primary crushing) by the vibrating feeder through the silo for coarse crushing; after the coarsely crushed copper ore is screened by the vibrating screen, The belt conveyor is sent to the single-cylinder hydraulic cone crusher (secondary crushing) for secondary crushing; the copper ore material after secondary crushing is sent to the multi-cylinder hydraulic cone crusher for fine crushing;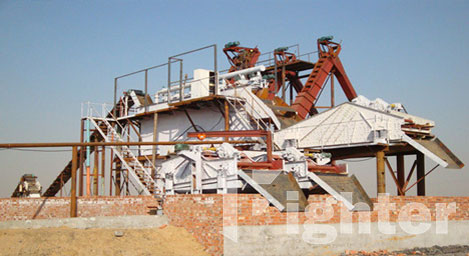 The second stage: grinding, two-stage one-closed grinding
The 0-12 mm copper powder sieved by the vibrating screen is evenly sent to the ball mill for grinding, and sieved by the screw classifier, and those that do not meet the requirements are sent to the ball mill to continue grinding;
The third stage: beneficiation–a new process for flotation separation
The copper powder that meets the requirements is sent to the flotation machine for mixed flotation, and then the obtained copper powder is sent to the dryer to be dried to obtain copper fine powder.
Related News...
The equipment for mineral powder production line with an annual output of 50,000 tons2023-11-22
Promote joint construction of green mines and low-carbon development2023-11-16
200-400 mesh calcite grinding equipment2023-11-08
Fighter Russia office moved to Moscow2023-11-02
What crusher is used for bluestone crushing?2023-11-22
The equipment for metal ore processing2023-11-16
Complete vermiculite grinding production line configuration2023-11-15
What equipment should be used for granite crushing processing?2023-10-30