Depending on the hardness, the mechanical sand and gravel raw materials can be divided into two categories: hard rocks and soft rocks.
The hard rocks are mainly represented by granite, basalt, river pebbles, pebbles, etc., and their hardness is basically above 150MPa.
When processing such raw materials, it is usually considered using jaw crusher and cone crusher, and then shaped according to the requirements of the finished product. Finally, the vibration screen is used for sorting, and the crushed stone is divided into the finished gravel aggregate of each specification.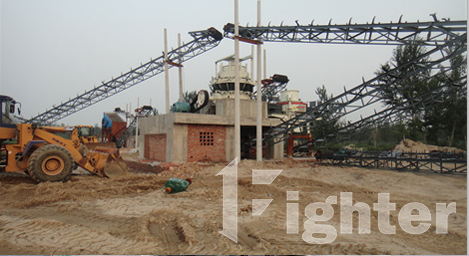 Soft rocks mainly include limestone, weather fossils, sandstone, etc. Its hardness is below 150MPa.
The choice of crusher can consider jaw crusher, impact crusher, and hammer crusher. Also according to the requirements of the finished product, you can use the vertical shaft impact crusher. While eliminating the needle chip -shaped and internal cracks produced during the crushing process, the output of mechanism sand is increased. It can usually reach about 60%of the mechanism sand rate.
Limestone has different silicon content, and its hardness differences are very different. When judging the hardness of the stone, we must pay attention to that if it is a limestone with high silicon content, we need to use cone crusher when crushing processing.
In addition, the choice of crusher also needs to consider various factors such as venue, finished product requirements,mud content,funds, and analyze the specific situation.