Granite is a high-quality machine-made sand and gravel raw material. However, granite has a higher hardness and causes greater wear and tear on the equipment. It is recommended to use the four-stage crushing mode, jaw crusher, single cylinder hydraulic cone crusherm multi cylinder hydraulic cone crusher and vertical shaft impact crusher. The crushing mode shares the crushing pressure of each section to ensure the capacity of the production line and reduce later operation and maintenance costs.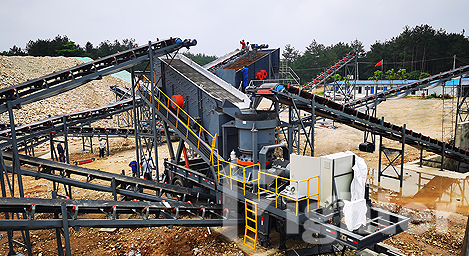 The jaw crusher is responsible for coarse crushing and can crush large rocks mined from the mountain to medium size (output size is about 5-30cm).
The cone crusher is responsible for medium and fine crushing. The combination of single-cylinder and multi-cylinder cone crushers can share the crushing and wear pressure. The crushing efficiency is higher and the capacity is larger. It is more suitable for medium and large hard rock crushing projects.
On the one hand, the vertical shaft impact crusher can be used to reshape the stones, remove the sharp corners of the crushed stones, and make the grain shape more rounded, so as to meet the high standard stone standards for key projects such as high-grade highways and railways; on the other hand, the vertical shaft impact crusher is mainly used in the production of machine-made sand. The gravel, stone powder and leftover materials are further broken into machine-made sand below 5mm to meet the demand of producing gravel and machine-made sand at the same time in one production line.
In addition to the main crusher, a complete granite sand and gravel aggregate crushing production line also requires supporting equipment such as vibrating feeders, vibrating screens, and belt conveyors to undertake functions such as raw material transportation and finished product screening, and jointly complete the production of sand and gravel.
If you are interested ingranite crushing processing equipment, please click on the online customer service for a detailed consultation.