HOME | PRODUCTS | Vibrating screen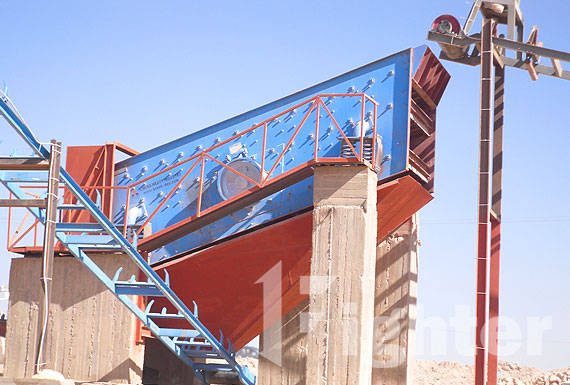 Processed Materials:
Granite, marble, basalt, limestone, quartz stone, river pebble, copper ore, iron ore, etc.
Applications:
Aggregates, metal mining, coal, chemicals, and renewable resources.
Type:Vibrating screen Input:
+ Overview
Screening is an important part of processing and is used to separate material according to its size. Material is typically fed to a single-, double- or triple-deck screen to make the required sizes. S5X Vibrating Screen adopts the most advanced international design concept, which apply to the heavy, medium, fine screening and various screening operation. This slant vibrating screen is the ideal type to process the material after primary and secondary crushing, also it can be used to sieve the final product materials. So it is widely used in the industries of gravel aggregates, mental mine, coal, chemistry and recycling.
+ Learn More About Vibrating screen
1. It uses beam protective package board to protect the tubular beam from scour and abrasion by materials which better to extend the service life of the screen.
2. Vibration intensity of the SV super-power exciter reaches advanced international level and it has large through-put capacity high screening efficiency and good handling ability.
3. Bearing uses grease lubrication and special labyrinth design which is simple and reliable without the risk of thin oil leak.
4. Modularization design reduces the types of spare parts for users and it has high general availability and easier maintaining.
+ Specifications - Technical Data
Model
Size W×L (mm)
NO.of decks
Incline(°)
Oper.Speed(RPM)
Stroke (mm)
Power (KW)
Capacity (t/h)
Mesh Size(mm)
S5X1230-2
1200×3000
2
18(18-25)
800~900
7-12
11
25-200
2-70
S5X1545-2
1500×4500
2
18(18-25)
800~900
7-12
11
45-380
2-70
S5X1545-3
3
18(18-25)
800~900
7-12
15
45-380
2-70
S5X1845-2
1800×4500
2
18(18-25)
800~900
7-12
15
60-450
2-70
S5X1845-3
3
18(18-25)
800~900
7-12
22
60-450
2-70
S5X1860-2
1800×6000
2
18(18-25)
800~900
7-10
15
75-600
2-70
S5X1860-3
3
18(18-25)
800~900
7-12
30
75-600
2-70
S5X1860-4
4
18(18-25)
800~900
7-12
37
75-600
2-70
S5X2160-2
2100×6000
2
18(18-25)
800~900
7-12
22
85-700
2-70
S5X2160-3
3
18(18-25)
800~900
7-12
30
85-700
2-70
S5X2160-4
4
18(18-25)
800~900
7-11
37
85-700
2-70
S5X2460-2
2400×6000
2
18(18-25)
800~900
7-12
22
100-800
2-70
S5X2460-3
3
18(18-25)
800~900
7-11
30
100-800
2-70
S5X2460-4
4
18(18-25)
800~900
7-10
37
100-800
2-70
S5X2760-2
2700×6000
2
18(18-25)
800~900
7-12
30
120-900
2-70
S5X2760-3
3
18(18-25)
800~900
7-11
37
120-900
2-70
S5X3072-2
3000×7200
2
20(20-25)
800~900
7-11
37
150-1200
2-70
S5X3075-2T
3000×7200
2
20(20-25)
800~900
7-12
2×22
180-1800
2-150
S5X3075-3T
3
20(20-25)
800~900
7-11
2×30
180-1800
2-150
S5X3680-2T
3600×7500
2
20(20-25)
800~900
7-12
2×20
225-2250
2-150
S5X3680-3T
3
20(20-25)
800~900
7-11
2×37
225-2250
2-150