The working principle of sand making machine is:
The material falls vertically into the high-speed rotating impeller from the upper part of the machine. Under the action of high-speed centrifugal force, it collides and smashes with another part of the material that is shunted around the impeller in the form of an umbrella. The materials form eddy currents between the casings, collide with each other, rub and smash each other for many times, and are directly discharged from the lower part to form a closed circuit for multiple cycles. The screening equipment controls the required particle size of the finished product.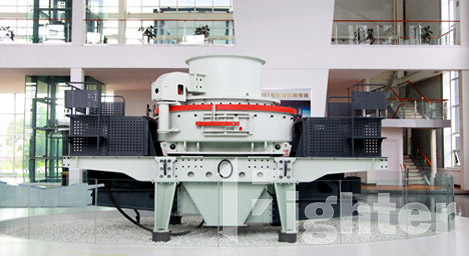 The advantages of sand making machine are:
1. Reliability, easy to use, install and maintain;
2. A variety of crushing forms (stone-on-stone, stone-on-iron, iron-on-iron) are available to adapt to different crushing requirements of users;
3. The surface of the material suitable for crushing is large;
4. Low operation and maintenance costs and good economy;
5. Energy saving, environmental protection, without any additional devices
6. High crushing efficiency, with fine crushing and coarse grinding functions;
7. Simple structure, convenient installation and maintenance, and low operating cost;
8. The ability to pass non-crushing materials is strong, and it is less affected by the moisture content of the material, and the moisture content can reach 8%;
9. The product has excellent grain shape, is cubic, and has low needle-like content, which is suitable for aggregate shaping, artificial sand making and high-grade highway aggregate production;
10. The product has high bulk density and low iron pollution.