At present, there are mainly two types mobile crusher of tire type and crawler type in the industry. Compared with the stationary crusher, the notable feature is that it can be combined for mobile production, without fixed installation, and can flexibly change the production site, with strong mobility.
In terms of function, the mobile crusher, like the fixed crusher, can be used for crushing and processing limestone, bluestone, granite and other rocks, river pebbles, cobblestones and other river stones, as well as iron ore, copper ore, manganese ore and other metal ores. It can also be used for the crushing of construction waste and has a wide range of applications.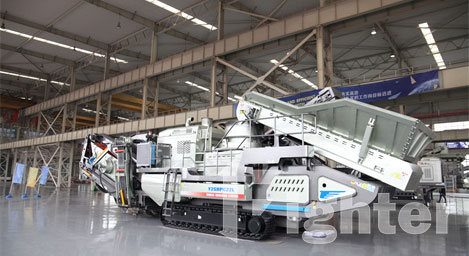 The main classification and configuration of FIGHTER mobile crushers:
From the configuration of the vehicle system, there are tire-type mobile crushing stations and crawler-type mobile crushing stations.
From the main crusher configuration, there are jaw crusher mobile crushing station, cone crusher mobile crushing station, impact crusher mobile crushing station, sand making machine mobile crushing station.
In addition to the crusher, each mobile station system is equipped with feeding, conveying, and screening systems, which can complete a series of process operations for stone processing.
At present, FIGHTER has established dozens of mobile crushing plant systems all over the world, and has been unanimously recognized and praised by global customers for its flexibility, convenience, reliable performance and perfect after-sales.