Calcium carbonate is a white, non-toxic, tasteless, water-insoluble, non-irritating inorganic compound. It is widely used in many fields such as papermaking, rubber, cosmetics, building materials, paint, putty, coatings, medicine, and chemical industry. The fineness of calcium carbonate powder used in different fields is different. For this reason, Fighter has designed mills with different finenesses for processing in different fields.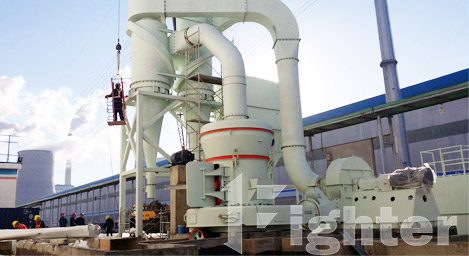 The first stage: raw material crushing
The large calcite material is crushed by the crusher to the fineness of the feed material (15mm-50mm) that can enter the mill.
The second stage: milling
The crushed calcite pieces are sent to the storage hopper by the elevator, and then sent to the grinding chamber of the mill by the feeder for grinding.
The third stage: classification
The ground materials are classified by the classification system, and the unqualified powder materials are classified by the classifier and returned to the host for re-grinding.
The fourth stage: finished product collection
The fine powder is separated and collected by the airflow through the pipe into the dust collector. The collected finished powder is sent to the finished product silo through the discharge port by the conveying device, and then packed by the powder tanker or automatic packaging machine.
For grinding 80-400 mesh, you can choose MTW European Trapezium Mill, R Raymond mill, and vertical mill; for grinding 325-2500 mesh, you can choose LUM vertical roller mill and MW micro powder mill.