Recently, Fang Libo, the general manager of the group company, went to the other side of the ocean to participate in the annual meeting of the New Zealand sand and gravel industry. While visiting the recycled aggregate factory, Mr. Fang met an overseas customer by chance and received praise from the customer for the company's products. The group Brand reputation +1.
It is understood that the client is an established enterprise with a history of more than 70 years in the Auckland area, with its own mines and multiple operating points. The strength of the enterprise is strong, and the business sector covers concrete preparation, concrete recycling, mining, multi-specification finished material processing and distribution and other fields. The products are widely used in concrete mixing stations, road construction, house construction, garden ground hardening, etc. It has a good reputation in the construction and building materials industry.
It is precisely because of the rich experience accumulated in the field of aggregate preparation that customers are quite discerning in the selection of processing equipment. In 2014, the customer purchased the PE750 jaw crusher developed and produced by our company from a third-party channel.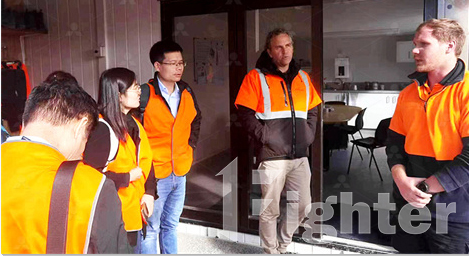 At the time of purchase, the equipment has been working for the previous owner's production line for several years. After the purchase, the equipment has been running smoothly for nearly 10 years, and it still maintains a high level of output and operation capacity. Today, they happened to meet the company representative of the equipment manufacturer, and the words of the customer were full of praise, and they called "So proud!"
As a provider of overall solutions for crushing and grinding equipment that is steadily advancing its global strategy, the group company has continued to focus on industry development for more than 30 years, strives for excellence in product research and development, production, and manufacturing, and is committed to developing intelligent solutions so as to improve the profitability of customers and achieve sustainable business development.
At present, the group company has successfully served more than 20,000 customers in more than 180 countries and regions around the world, and has established overseas offices in dozens of countries to provide customers with localized products with strong applicability.
The company's PE series jaw crushers, C6X jaw crushers, HST single-cylinder hydraulic cone crushers, HPT multi-cylinder hydraulic cone crushers, VSI6X vertical shaft impact crushers, K series and NK series mobile crushers and other products are in the international market with many years of experience in launching. it is well-known at home and abroad for its advantages such as mature technology, stable performance and durability, and has helped thousands of customers achieve take-off and development!