As an important building material, limestone is the main raw material for the manufacture of cement, lime, and calcium carbide. It is an indispensable flux limestone in the metallurgical industry. After being superfinely ground, limestone of good quality is widely used in papermaking, rubber, paint,etc.
Limestone powdering is generally divided into coarse limestone powder processing (0-3MM), fine powder processing (20 mesh-400 mesh), and deep processing of limestone ultrafine powder (400 mesh-1250 mesh) and fine powder processing (1250 mesh-3250 mesh).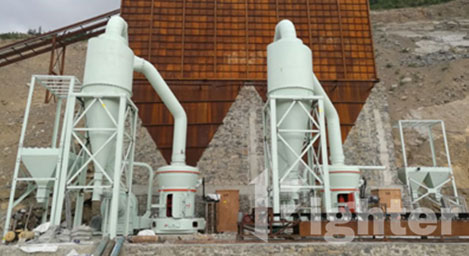 The first stage: crushing
Large pieces of limestone are crushed by the crusher to the fineness (15mm-50mm) that can enter the mill.
The second stage: milling
The crushed small pieces of limestone are sent to the silo by the elevator, and then sent to the grinding chamber of the mill evenly and quantitatively by the vibrating feeder for grinding.
The third stage: classification
The ground material is classified by the classifier, and the unqualified powder is classified by the classifier and then returned to the host for re-grinding.
The fourth stage: collecting powder
The powder that meets the fineness is separated and collected in the dust collector through the pipeline through the airflow. The collected product powder is sent to the finished product silo by the conveying device through the discharge port, and then is packaged by a powder tanker or an automatic baler.