GROUP
NEWS
Integrated mobile crusher for slag, cement block and concrete crushing
The muck, cement blocks and concrete waste generated in the construction demolition and road renovation projects may seem useless, but they are actually precious resources, which can completely achieve "turning waste into treasure". The important thing is to choose the right method. The integrated mobile crusher can crush muck, cement blocks and concrete into high-quality aggregates. The whole machine can realize free transition operation without environmental restrictions, economical and convenient!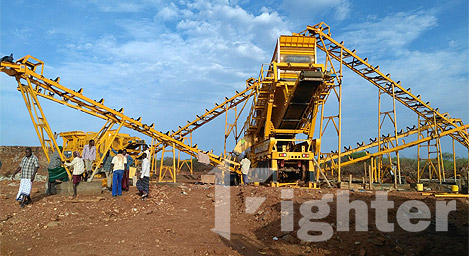 After being processed by the integrated mobile crusher, the muck, cement block, concrete and other materials have a very wide range of uses. It can be used as aggregate in the construction field. After screening and crushing, these materials can be used as construction aggregate instead of natural aggregate, which can save a lot of natural aggregate and investment cost. Waste road concrete can be processed into recycled aggregate for use. Formulation of recycled concrete.
The integrated mobile crusher can be equipped with a generator set and can be operated on a vehicle. There are crushers, screening machines, feeders, conveyors and other equipment on the vehicle, which can be flexibly configured. We have professional engineers to configure a suitable integrated mobile crusher for you according to your needs. For more details, please consult our technicians for free!
Related News...
The equipment for mineral powder production line with an annual output of 50,000 tons2023-11-22
Promote joint construction of green mines and low-carbon development2023-11-16
200-400 mesh calcite grinding equipment2023-11-08
Fighter Russia office moved to Moscow2023-11-02
What crusher is used for bluestone crushing?2023-11-22
The equipment for metal ore processing2023-11-16
Complete vermiculite grinding production line configuration2023-11-15
What equipment should be used for granite crushing processing?2023-10-30