GROUP
NEWS
Improvement of the new crusher
The development of the new crusher focuses on the development of the crushing cavity of the medium and fine crusher, so that the particle size of the crushed product can reach 10~0mm. Currently there are mainly: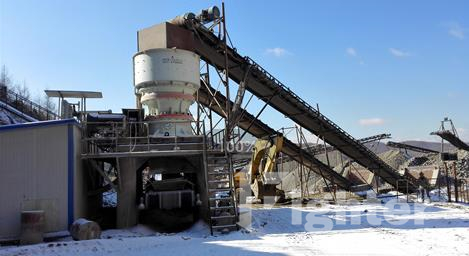 1) New single-cylinder hydraulic cone crusher
According to the crushing cavity, it is divided into two types: standard type and short head type. According to the particle size of crushed products, it is divided into five categories: "fine type", "middle type", "medium-fine type", "medium-coarse type" and coarse type. The discharge port is adjusted by hydraulic system. The control of the crusher has two ways of digital control and analog control, both automatic control and manual operation. The operation control information comes from the motor load, the hydraulic cylinder oil pressure, the measuring device of the lower clearance of the hydraulic cylinder piston and the top position's Position indicator, the ore feeding equipment of the crusher is a speed regulating belt conveyor, which uses the material level indicator and the motor load to adjust the ore feeding amount.
2) Rotary Cone Crusher
This machine is a new type of fine crusher designed according to the principle of extrusion and crushing between multiple particles. It is characterized by increasing the area of the crushing cavity in the uncontrolled particle size area, the parallel zone of the crushing cavity is very short, the inclination angle of the value surface is relatively gentle, and the upper ore is used to squeeze and stretch the ore, so the size of the discharge port has little relationship with the particle size of the final crushed product. . The crusher has a large crushing ratio, and the particle size of the crushed product is less than 7mm. The content of qualified particle size in the primary crushed product is 67%, and the circulation amount is 50% of the ore feeding amount.
3) Ultrafine crushing 1800mm inertia crusher
This machine is a new type of equipment for crushing ore by means of centrifugal force. It consists of a high-speed rotating central shaft with several sets of annular hammers superimposed in the axial direction. The upper hammer has a large diameter and grooves on the surface, and the lower hammer has a small diameter and smooth surface. The cylindrical liner is arranged in a stepped inverted cone. The test results of this machine in Dashihe Concentrator show that when the feeding particle size is 30-0mm, the crushed product particle size is 6-0mm.
Related News...
Return visit service continues to upgrade2023-12-07
The equipment for mineral powder production line with an annual output of 50,000 tons2023-11-22
Promote joint construction of green mines and low-carbon development2023-11-16
200-400 mesh calcite grinding equipment2023-11-08
What crusher is used for bluestone crushing?2023-11-22
The equipment for metal ore processing2023-11-16
Complete vermiculite grinding production line configuration2023-11-15
What equipment should be used for granite crushing processing?2023-10-30