Investing in a limestone grinding production line is of great value. First, there are abundant limestone resources. Second, the limestone can be used after crushing and screening, and the processing procedure is simple. Third, limestone powder can be used in metallurgy, road paving, etc., with a wide range of applications and large market demand.
The production process of limestone grinding powder, the equipment can be increased or decreased according to the actual situation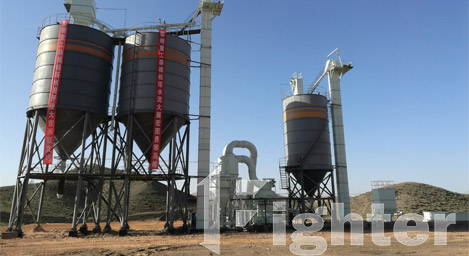 The first stage: coarse crushing
Main equipment: Jaw crusher
Large pieces of limestone are uniformly fed by the vibrating feeder through the silo, and then transported to the jaw crusher for coarse crushing. The coarsely crushed materials are screened by the vibrating screen and transported to the impact crusher by a belt conveyor.
The second stage: medium and fine crushing
Main equipment: impact crusher, sand making machine
After the coarse materials transported to the impact crusher are crushed by the impact crusher, the circular vibrating screen is used to screen the crushed materials through the impact crusher. Larger particles (limestone particle size greater than 25mm) are returned to the impact crusher and crushed again; For fine products or shaping, the crushed materials are sent to the sand making machine for further crushing and shaping.
The third stage: milling
Main equipment: grinding mill
The crushed small pieces of limestone are sent to the silo by the elevator, and then sent to the mill by the vibrating feeder to be evenly quantified for grinding. After the grinding is completed, the finished product that meets the product size can be used.If the particle size of the finished product is unqualified, it will return to the mill for secondary grinding.