GF series vibrating feeder is a rod vibrating feeder suitable for light working conditions, which uses a vibrating motor as the excitation source. It is specially designed for mobile stations, semi-fixed stations and small stockyards, and is suitable for jaw crushers. It can also be used for feeding equipment such as primary impact crushers and hammer crushers, and can also be used for conveying. Its maximum vibration intensity can reach 4.0G, which increases the processing capacity by more than 20% compared with the traditional feeder, while the load of the primary crusher can be reduced by more than 15%. It is suitable for industries such as metallurgy, coal mines, mineral processing, building materials, chemicals and abrasives.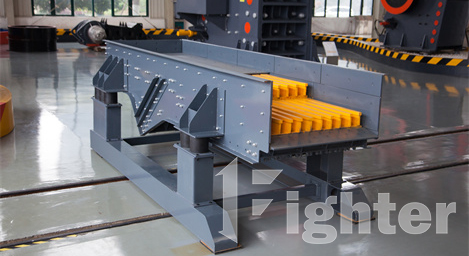 Product highlights:
1. The structure of the tank body is firm and reasonable
20# channel steel is used as the beam, which has higher bending strength and can withstand greater falling impact. All beam parts and side plates are connected by high-strength torsional shear bolts. There are no solder joints in any form on the side plates, and there is no hidden danger of cracking. The groove layout is reasonable and the overall appearance is more beautiful.
2. High vibration intensity and large processing capacity
Benchmarking international technology, adopting modern design concepts and manufacturing processes, the maximum vibration intensity is 4.0G, and the maximum processing capacity is more than 20% higher than that of traditional feeders.
3. Vibration motor is efficient, reliable and convenient
The vibration motor is used as the excitation source, and the excitation force of the vibration motor can be adjusted according to the actual needs of the site. It is convenient, reliable in operation, and highly versatile. It only needs to add grease to the vibration motor every 2000 hours.
4. Abundant bar configuration, unique pre-screening function
The rod structure welded by the combination of NM wear-resistant steel and ordinary steel not only has long service life, high screening efficiency, but also very convenient installation and adjustment; in order to meet the pre-screening requirements of different applications, GF provides full blind plate (GF**45M Model), two-section bar (GF**45 model), two-section bar with additional hanging screen layer (GF**45S model) three configurations are optional.
5. Rubber spring support design
Compared with traditional metal springs, rubber springs can not only provide greater bearing capacity, but also have the advantages of long service life, stable operation, low noise, and small impact on the foundation. The modular design reduces the types of spare parts for the user, has a higher degree of generalization, and has very few maintenance points.