GROUP
NEWS
Comparison of crushing effects by different crushing methods
Among the five crushing methods, the impact crushing effect is the best, and the grinding and stripping crushing has the worst effect because the force acts on the surface of the ore. It is more beneficial only for fine-grained ore with a large specific surface area.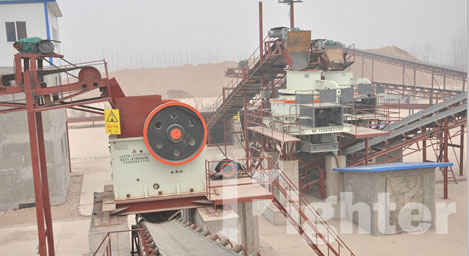 Among the other three crushing methods, pressure crushing requires a large pressure and consumes more energy due to the large contact area between the ore and the crushing working surface. The splitting is due to the concentrated force of the ore, and the breaking is not only the concentrated force, but also the effect of bending moment. Therefore, the required external force is smaller and the energy consumed is less. Experiments have shown that the force required for splitting and breaking is only 10% to 20% of the crushing force. The pulverizing equipment currently used often has the joint action of the above-mentioned forces at the same time.
After understanding the mechanical properties of the ore and the application force of the crushing equipment, it should be noted that the force application method of the  crusher should be compatible with the properties of the ore in order to have a good crushing effect. For hard ores, it should be crushed by bending and impacting. For brittle ores, bending and splitting are more beneficial. And It is more reasonable to crush the ore with high toughness and viscosity by grinding and stripping it. Due to the mechanical properties of materials are varied. So the crushing equipment is also varied.
Related News...
The equipment for mineral powder production line with an annual output of 50,000 tons2023-11-22
Promote joint construction of green mines and low-carbon development2023-11-16
200-400 mesh calcite grinding equipment2023-11-08
Fighter Russia office moved to Moscow2023-11-02
What crusher is used for bluestone crushing?2023-11-22
The equipment for metal ore processing2023-11-16
Complete vermiculite grinding production line configuration2023-11-15
What equipment should be used for granite crushing processing?2023-10-30