Basalt has high silicon content, hard texture and good compressive strength. It is a high-quality sand and gravel aggregate raw material. Basalt is a hard rock, which is difficult to break, and has high requirements for crushing equipment. If the equipment is not properly selected, the wearing parts will be seriously worn and the processing effect will be poor during use. Therefore, in the equipment configuration of the basalt crushing and sand making production line, the crushing equipment based on the lamination principle should be selected as much as possible to reduce the production loss of the equipment.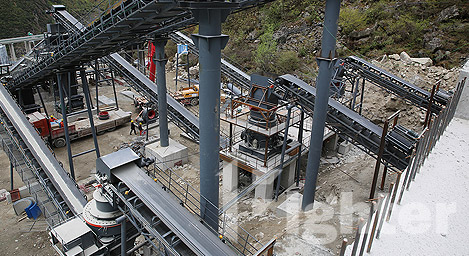 The basalt crushing and sand making production line generally adopts three or four stage crushing configuration:
1. Primary crushing – coarse crushing
The size of the raw material is large, and it needs to be primary crushed first. The equipment used is usually a jaw crusher. The jaw crusher can crush large stones to a medium size (about 10-30cm) at one time.
2. Secondary crushing – medium and fine crushing
Basalt has high hardness and is difficult to crush. In the selection of medium and fine crushing equipment, hydraulic cone crusher that adopts the principle of lamination crushing is usually selected, and the crushing effect between materials is used to reduce the impact and wear on equipment parts. The double cone crusher combination of single cylinder hydraulic cone crusher and multi cylinder hydraulic cone crusher can be used to optimize the particle size of the stone, and achieve greater capacity at the same time.
3. Tertiarycrushing – shaping sand making
If you want to further beat the stones into machine-made sand, you can add three stages of crushing, that is, the shaping sand-making link. Not only can the stne be shaped, but also sand can be made, and a production line can produce both sand sand stone. For basalt, a high-hardness stone, the sand making machine mostly uses impact crushing, ushing the principle of "stone dozen stone" to achieve further crushing through the force of impact between stones.
If you are interested in basalt crushing and sand making production line, please click on the online customer service for a detailed consultation.