GROUP
NEWS
200tph iron ore crushing processing equipment
Iron ore is a relatively hard metal ore, which has greater wear on the machine, so a professional mining crusher suitable for metal ore crushing must be selected. For iron ore crushing processing, the crushing is mainly the primary crushing, medium and fine crushing links.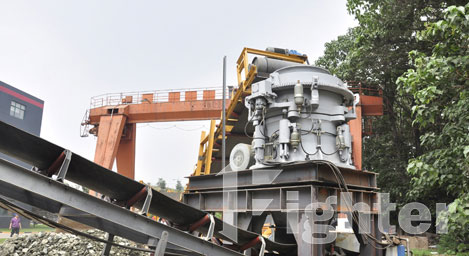 Primary crushing and coarse crushing: jaw crusher is usuallt used. The jaw crusher has simple structure, large crushing ratio, strong crushing capacity, convenient maintenance, and low operating cost. It can crush large iron ore to mesium size at one time, which is very suitable for coarse crushing of iron ore.
Medium and fine crushing: for ore with high hardness such as iron ore, hydraulic cone crusher is the most suitable medium and fine crushing equipment. Generally, the fine crushing of iron ore is dicided into two stages. One stage is mainly for medium crushing. A standard cone crusher, such as HST single cylinder hydraulic cone crusher can be used. The inlet is large and the output size si above 20mm. In the process, a short-head cone crusher, such as HPT series hydraulic cone crusher can be used, which can control the particle size well, so that the output size can reach 13mm or less, and the minimum can reach 4mm.
If you are interested in the cone crusher machine, please click on the online customer service for a detailed consultation.
Related News...
Fighter's professional equipment helps national infrastructure projects2023-05-22
High capacity limestone grinding mill equipment2023-04-24
NK mobile crusher2023-04-14
SMP modular crushing production line2023-03-30
Limestone Grinding Machines2023-05-12
Manganese ore powder grinding equipment helps the lithium-ion battery industry2023-04-27
200 mesh bentonite powder grinding line for feed and paper making industry2023-04-17
How to improve the quality of basalt sand making?2023-04-13