Pyrophyllite is a kind of clay mineral with fine texture and low hardness (1-2). It can be widely used in ceramics, metallurgy, building materials, chemical industry, light industry and other industrial sectors.
1.Crushing stage: The bulk materials are crushed by the crusher to the fineness (15mm-50mm) that can enter the mill.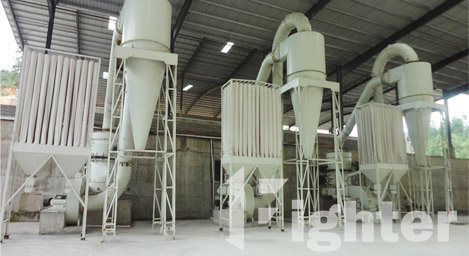 2.Grinding stage: Small pieces of materials that meet the grinding conditions are uniformly and quantitatively entered into the grinding chamber of the mill through the conveying and feeding system, and are ground into powder in the grinding chamber.
3.Classification stage: The pulverized materials are classified by the powder separator with the system airflow, and the unqualified powder is classified by the powder separator and then returned to the main machine grinding chamber for re-grinding.
4.Powder collection stage: The powder that meets the fineness enters the powder collection system with the air flow through the pipeline, the gas powder is separated, and the finished powder is sent to the finished product silo by the conveying device, and then uniformly packed by a powder tanker or an automatic baler.
In order to maximize the interests of customers, we choose TGM trapezoidal mill (Raymond mill) instead of vertical mill to reduce customer investment costs, with less investment and quick results.