Heavy calcium carbonate is calcium carbonate powder produced by mechanical crushing of calcite, chalk, marble and other ores as raw materials. It is a commonly used powdery inorganic filler and is widely used in the fields of chemical industry, papermaking, medicine, and building materials. It can increase product volume, reduce costs, improve processing properties (such as adjusting viscosity, rheological properties, vulcanization properties), improve dimensional stability, reinforce or semi-reinforce, improve printing performance, and improve physical properties (such as heat resistance, matting properties, wear resistance, flame retardancy, whiteness, gloss), etc.
Heavy calcium processing and grinding process flow:
1.Grinding stage
Raw materials with appropriate particle size are continuously and evenly fed to the main machine through the feeder for grinding. The fine powder after grinding is sent to the classifier for classification under the action of the fan air flow. The fine powder that reaches qualified fineness passes through the classifier and enters the air outlet duct to enter the collection stage.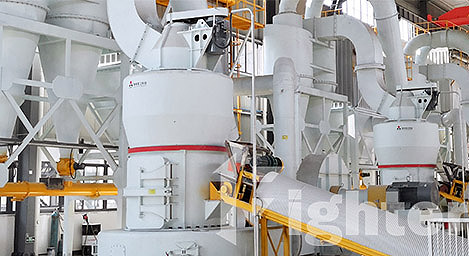 2.Collection stage
The dust gas coming out of the mill enters the cyclone collector through the air outlet duct of the main machine, and most of the finished fine powder is separated under the action of centrifugal force. The excess gas is removed and sent to the pulse dust collector. After the pulse dust collector, it becomes clean gas and is discharged. The finished product fine powder collected by the bag is transported to the finished product conveying stage through the screw conveyor.
3.Transport stage
The finished mineral powder collected by the dust collector and cyclone collector is sent to the next process or into the finished product tank by the screw conveyor.
As a leader in the industrial grinding business, we can not only provide excellent heavy calcium processing equipment, but also provide technical service support with a team of nearly 100 technical engineers. From on-site inspection to plan design and formulation, equipment manufacturing and production line completion and commissioning, you provide complete guidance for heavy calcium processing projects.