The Raymond mill equipment is operated under negative pressure, and the pulse bag filter is used to collect the finished product. There is no dust spillage, and it can meet the environmental protection standards required by the country.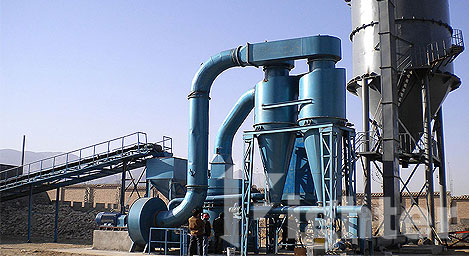 The advantages of Raymond mill equipment in flour production:
1.The main transmission device of the Raymond mill equipment adopts a closed reducer, which is stable in transmission and reliable in operation.
2.The electricity of Raymond mill can be controlled centrally, and unmanned operation can be realized in the host room.
3.Raymond mill adopts electromagnetic vibrating feeder to feed uniformly, which is convenient for adjustment, fuel-saving and electricity-saving, and easy to maintain.
4.The vertical structure occupies a small area and has a strong system. It is an independent production system regardless of raw material crushing, conveying, powdering, and packaging.
However, Raymond mill equipment has requirements for the selection of stone materials, especially the hardness limit. The hardness of the stone materials cannot be greater than 9.3 (Mohs hardness); the humidity should be determined according to its control range, otherwise it will easily cause machine failures and delay production efficiency , and waste maintenance costs.