GROUP
NEWS
What are the ways to reduce the energy consumption of the concentrator
Reducing the particle size of crushed products is one of the effective ways to reduce energy consumption in concentrators. At present, the main measures to reduce the particle size of crushed products are: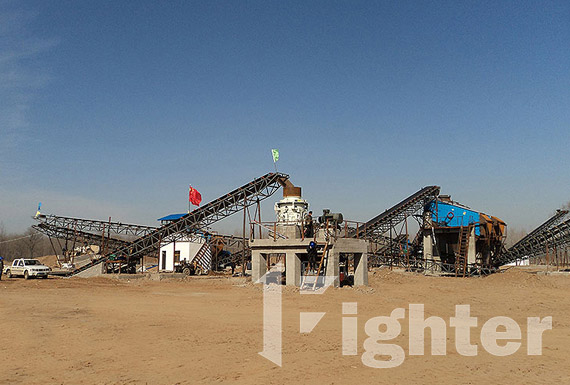 (1) Transform the crushing and screening process. For example, aconcentrator has changed the three-stage open-circuit crushing process to a three-stage-closed-circuit crushing process, so that the particle size of the incoming grinding ore is reduced from 20-0mm to 12-0mm, and the processing capacity of the ball mill is Increased.
(2) Increase the number of fine crushers and the screening area. In Anshan, the content of -12mm particle size in the finely crushed products has been increased by 5% in the concentrator, and the screening efficiency of the screening equipment has been increased from 41.5% to 80%.
(3) New crushing equipment such as single-cylinder or multi-cylinder or super-heavy hydraulic cone crushers are adopted. The parallel area is longer of such crushers, the safety device and the discharge port are controlled by the hydraulic system, which can be adjusted in time according to the wear degree of the lining plate.
Related News...
What kind of crusher is used for basalt crushing and sand making?2023-09-24
Sand and gravel crusher2023-09-22
Elevate Your Road Construction Projects with Our Cutting-Edge Grinding Mills2023-09-08
300-500 t/h pebbles and gravel crushing process2023-08-30
200 tons per hour iron ore crushing processing equipment2023-09-24
600 mesh carbon black grinding machine2023-08-27
Barite powder making process and barite grinding mill recommendation2023-08-17
Calcite Grinding And Using2023-08-16