The full name of slag is granulated blast furnace slag, which is the hot molten slag discharged from the blast furnace after the steel plant smelts pig iron. After the slag comes out, it is directly thrown into water for cooling, so it is also called water slag. In the cement building materials industry, the commonly used cementitious material is mineral powder produced from slag.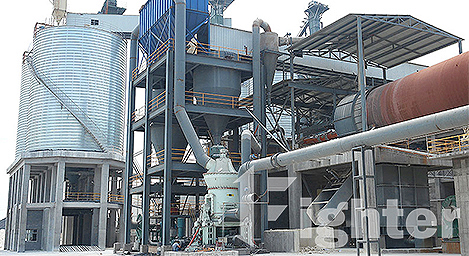 There are many kinds of equipment for slag grinding, such as vertical mill, ball mill, roller mill, rod mill, etc. From the perspective of energy consumption and environmental protection, vertical mills have significant advantages, so they are also welcomed by customers.
1.Crushing: Large pieces of slag need to be crushed first, and the particle size of the abrasive should be within 3 cm;
2.Drying + Grinding: The crushed material is evenly sent into the mill, and crushed under the force of the grinding roller, and the incoming grinding air can be dried by the hot blast stove after being heated;
3.Classification: The pulverized material is blown up by the airflow and enters the classifier. Those with qualified fineness pass through smoothly, and the unqualified ones continue to fall back for grinding;
4.Collection: The selected qualified materials enter the pulse dust collector to realize the separation of materials and gases;
5.Conveying: The unloading valve under the pulse dust collector can be connected to the bulk machine for direct loading and transportation to the destination, or sent to the finished product warehouse for storage through the conveying mechanism.
If you need detailed parameters of the equipment, welcome to consult us by private message.