GROUP
NEWS
The structure and working method of cone crusher
The cone crusher is mainly composed of two working parts: a moving cone and a fixed cone. The moving cone is fixed on the main shaft, and the other fixed cone is a part of the frame and is stationary. The main working parts of the cone crusher to crush the material are these two cones. After the material passes through the previous series of conveying and processing procedures, it is transported to the crusher, and the stone is crushed by the action of extrusion, bending and shearing of the moving cone. When crushing the stone, due to the action of the crushing force, a friction force is generated on the surface of the moving cone, and its direction is opposite to the moving direction of the moving cone, so a moment is formed on the main axis, so that the moving cone makes a eccentric movement around the axis at the same time. It also rotates in the opposite direction, which can make the particle size of the product more uniform and make the wear of the surface of the moving cone uniform. Cone crushers are also divided into coarse crushing, medium crushing and fine crushing. The specifications of the crushers are different, and the specifications of the crushed materials are also different.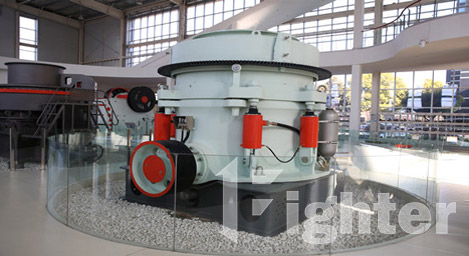 Related News...
Coarse crushing equipment C6X series jaw crusher2023-06-09
Fighter crawler mobile crusher2023-06-07
GF series vibrating feeder2023-05-31
10-50 t/h LM vertical mill for processing coal
Which equipment should be used for medium and fine crushing?
Vertical mill for slag grinding production line
How to configure a complete basalt crushing production line?
Limestone Grinding Machines2023-05-12