Talc has a Mohs hardness of 1, which is naturally crushable and has good grindability. Combined with the characteristics of materials, the main equipment is generally ultra-fine vertical mill. At present, the production process of ultra-fine talcum powder in the domestic and international markets is as follows:
1. ultrafine talcum powder mill
As the main equipment of the milling production line, it has a three-dimensional structure, small footprint, strong complete set, independent production system from block material to finished powder, high degree of automation, good quality, uniformity and high sorting accuracy. The sieving rate is higher, and the fineness can be adjusted arbitrarily according to requirements (3-45μm can be adjusted).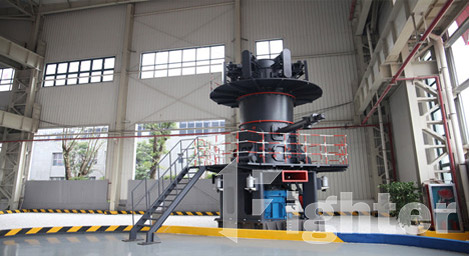 2. superfine talcum powder production process
Raw material warehouse→bucket elevator→jaw crusher→superfine vertical mill→electromagnetic vibration feeder→analyzer→powder collector→piping device→dust collector→distribution cabinet→finished product warehouse, etc.
Crushing system: Talc needs to be pre-crushed to within 40mm, firstly subjected to coarse screening and then crushed again. Some talc manufacturers do not screen before coarse crushing, so that the smaller size meets the requirements of the block and the big talc together directly into the crusher, the small pieces of green coke undergoes another crushing process, making the raw material finer.
Grinding system: The material is sent to the ultra-fine vertical mill for grinding, the finished product passes through the powder separator, enters the cyclone powder collector and pulse dust collector for collection, and is sent to the blower from the lower discharge port;
Finished product conveying system: A pneumatic conveying system is installed at the discharge port of the blower to convey the finished product to the finished product warehouse, and the excess gas is filtered by the dust collector on the top of the warehouse;
Dust removal system: The entire system is equipped with pulse dust collectors, and air vents are installed at all dust-raising points to ensure that the entire system is free of dust and dust-free operations on site.
Control System: This system is equipped with an intelligent PLC control cabinet and upper computer, which has the functions of start-stop, monitoring, and interlocking linkage for all equipment of the whole system, and reserves DNS interface to realize remote control.