GROUP
NEWS
The crushing and screening often mentioned by the mineral beneficiation factory
Crushing and screening is a necessary preparatory operation in the early stage of the beneficiation process, which has a great impact on the technical and economic indicators of the grinding and beneficiation operations. Due to the different mining methods, transportation conditions and the scale of the concentrator, the particle size of the raw materials sent to the concentrator is also different.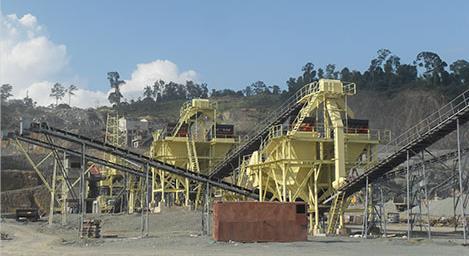 At present, the ore mined underground has a maximum particle size of 200-600mm, and the ore mined in the open pit has a maximum particle size of 1200-1500mm. However, due to structural reasons, the currently used crushing equipment has a certain range of feed particle size and product particle size, so it is impossible to crush coarse ore blocks to the required particle size at one time.
It must be crushed section by section through several different types of crushing equipment, and each section only completes a part of the entire crushing process. The ore crushing adopts two-stage or three-stage crushing, or even four-stage crushing, and some small beneficiation factories use one-stage crushing.
The ore crushing is divided into coarse crushing, the feeding particle size is 1500~300mm, the product particle size is 350~100mm, the medium crushing feeding particle size is 350~100mm, the product particle size is 100~40mm; the fine crushing is 100~40mm, the product particle size is 25~6nm. The crushing ratio is the ratio of the original particle size of the ore to the particle size after crushing.
Related News...
What kind of crusher is used for basalt crushing and sand making?2023-09-24
Sand and gravel crusher2023-09-22
Elevate Your Road Construction Projects with Our Cutting-Edge Grinding Mills2023-09-08
300-500 t/h pebbles and gravel crushing process2023-08-30
200 tons per hour iron ore crushing processing equipment2023-09-24
600 mesh carbon black grinding machine2023-08-27
Barite powder making process and barite grinding mill recommendation2023-08-17
Calcite Grinding And Using2023-08-16