Vibrating feeder
PE-750*1060 jaw crusher 1 set
PF-1315 impact crusher 1 set
3YZS vibrating screen
Belt conveyor 3*15m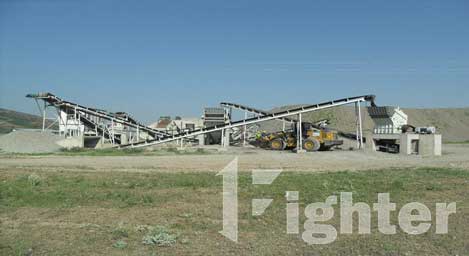 The workflow of 200tph stone production line is:
First, the stone is evenly sent to the jaw crusher by the feeder for preliminary crushing. Then, the produced coarse material is conveyed by the belt conveyor to the impact crusher for secondary crushing, and the finely crushed stone is screened by the vibrating screen. Stones of different specifications are produced, and the stones that do not meet the particle size requirements are returned to the impact crusher to be broken again.
The performance characteristics of the stone production line are:
1. The crushing and screening equipment has a high degree of automation, adjustable discharge particle size, low operating cost, large output and high profit.
2. The crushing and screening equipment has the characteristics of reliable performance, reasonable design, convenient operation and high work efficiency.
3. The stone production line is widely used in the crushing and processing of limestone, basalt, granite, cobblestone and other rocks, and provides qualified aggregate for highway, railway, water conservancy, concrete mixing station and other industries.
4. The configuration of the stone production line is mainly determined according to the customer's stone specifications, output and use of the stone. We provide pre-sale, in-sale and after-sale services, and configure the process according to the customer's production site.