Although the tire-mounted mobile station is called a mobile station, it has no power system itself, but why is it so, it can still regard mobility as the main selling point and occupy a place in the market for a long time?
First of all, compared with the crawler-type mobile station, the investment amount of the tire-type mobile station will be relatively small, and with the improvement of the manufacturer's R&D and manufacturing capabilities, the mobile convenience of the tire-type mobile station has been greatly improved, and it can almost be compared with the crawler-type mobile station. Although the tire-type mobile station itself has no power system, it can be equipped with a tractor as the head of the vehicle to achieve movement. At present, the rental price of the tractor is only a few hundred to thousands yuan, which is economical and affordable. If the working site of the mobile station does not change frequently, customers can choose the tire-mounted mobile station.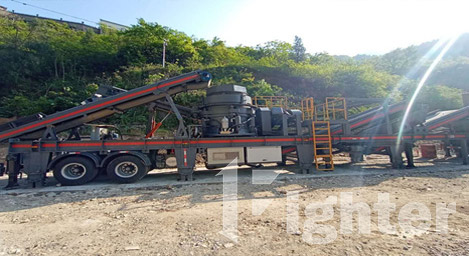 In addition, the lightweight design of tire-type mobile stations has become a trend. In the past, the commonly used ship-type frame had many consumables, heavy weight and relatively high cost. Today's mobile crushing station frame reduces weight on the basis of retaining its sturdiness and durability. After the cost of the frame is saved, the manufacturer will be more willing to spend the budget on the host equipment, and the components of the lubrication system and the automatic control system have also been greatly improved. As a result, the performance of the tire-type mobile station has developed rapidly in recent years, and the customer's experience will be better.
The mobile crushing station is composed of mobile crushing and screening system, including the primary crushing station, the secondary crushing and screening station and the conveyor. The mobile station is flexible and convenient, with strong mobility, which can save a lot of infrastructure and relocation costs; it can crush materials on-site and move with the advancement of the raw material mining surface, thereby greatly reducing the transportation costs of materials.