1. Flexible movement, small size, not limited by the venue
Since mechanism sand has become the main sand used in the market, the development of crushers has also increased steadily. In order to facilitate the use of customers, FIGTTER has launched a new crawler-type bluestone crusher. In terms of volume, the equipment does not occupy a large area and can freely enter the venue, so customers no longer need to worry about the venue.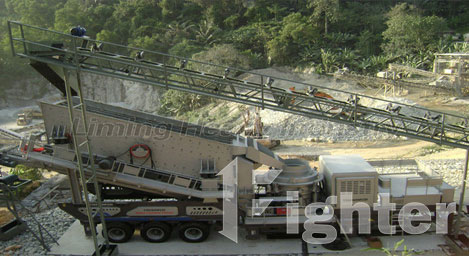 2. Complete functions and various collocations, saving time and effort
This equipment combines crusher, conveyor and feeder in a folding method, which not only reduces the installation time of the equipment, but also reduces the transportation cost of customers. It can directly crush and screen bluestone. Divided work makes crushing convenient and fast, and in order to meet the different needs of customers, the equipment is equipped with more types of crushers, such as: jaw crusher, cone crusher, impact crusher, hammer crusher, sand making machine, etc. With different types of equipment, bluestone can be coarsely, mediumly and finely crushed.
3. One machine is multi-purpose, high efficiency crushing, high output
The equipment has complete functions. One machine can crush, convey and screen bluestone, and realize the whole crushing process of the fixed crushing production line. Sand production can be easily realized by replacing it with a sand making machine. One machine has multiple functions, which improves work efficiency and has the advantage of high output, which can reach 300-400 tons per hour.
4. Wide range of use, in line with environmental protection requirements
In order to increase the use time of the equipment, FIGHTER adopts wear-resistant steel and high-quality cast steel technology, the quality of its equipment is guaranteed, and the equipment can not only crush bluestone, but also crush many materials, especially rough roads and mountain roads. It is also a good choice for difficult operations such as muddy roads, and it is also a good choice for construction waste. It can directly carry out the internal work of construction waste, increase resource utilization, and easily achieve environmental protection.
5. Low price
The price of crawler bluestone crusher is affected by many factors, such as manufacturer, quality, manufacturing cost, model, etc. FIGHTER, as a direct-selling manufacturer, uses its own sales team to communicate directly with customers face-to-face, and the price given to customers is ex-factory price.FIGHTER is a large-scale sand making equipment manufacturer. For more than 40 years, it has been committed to providing customers with equipment with excellent performance, free installation services and good after-sales service. The sand-making equipment produced has been praised by customers in more than 100 countries and regions. Professional engineers can customize equipment and production plans for customers free of charge. The equipment is sold directly by the factory, without middlemen, and the price is favorable.Welcome to contact us for more details!