On August 22, 2022, China (Zhengzhou) International Sand, Gravel and Tailings and Construction Solid Waste Treatment Technology Exhibition opened at Zhengzhou International Convention and Exhibition Center as scheduled. At the same time, 2022 China Green Intelligent Mine Construction and Solid Waste Treatment and Mine Fix summit forum will be launched.
With the theme of "Promoting Collaborative Innovation and Concentrating Green Development", this exhibition is based on the "Central Plains Economic Zone", displays new technologies in the industry, and seeks new trends in green development.
As an industry pioneer, our booth has attracted the attention of industry leaders and experts. Hu Youyi, President of China Sand and Gravel Association, and his party visited Fighter's booth.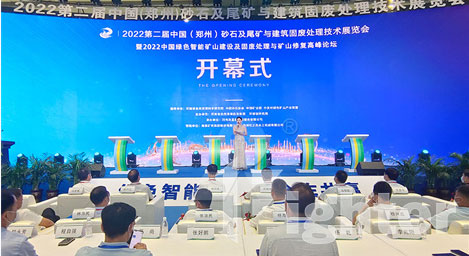 As a local manufacturer of crushing and grinding equipment in Zhengzhou, our company will provide you with product and technical consultation throughout the exhibition site, and design production line configuration plans free of charge. If you need, you can take our business car to the company headquarters to visit. Our professional explanation team will explain the preferred model for each visitor in detail, and the technical representatives who follow up will always pay attention and answer questions in a timely manner.
At the summit forum, Mr. Hu Youyi, President of China Sand and Gravel Association, shared "Make the best use of things and sustainable development – solid waste resource utilization and ecological environment restoration".
As a special support unit of this meeting, Fighter appeared at the industry green development forum, and Zhang Ning, the marketing director of the mining division, gave a report entitled "Green and Efficient Soft Rock Aggregate Preparation Process" to share the green sand and gravel under the new market situation. The key points of production line construction are discussed with industry experts and scholars to provide users with rationalized proposals.
Technology is a powerful booster to promote the transformation and upgrading of traditional mining and the development of green mines. As a scientific and technological innovation enterprise, we reinvest about 5% of our turnover into scientific research every year, continue to carry out in-depth innovation of machines, and use technology to interpret our strength.