GROUP
NEWS
Process of 50t/h kaolin grinding production line
Kaolin is mainly composed of illite, hydromica, montmorillonite and other minerals. It has good plasticity, fire resistance and other characteristics, and has a wide ranger of uses in ceramics, rubber, building materials and other fields.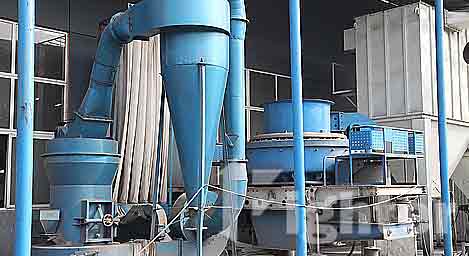 Due to the wide range of uses of kaolin, the demand for kaolin powder in the market is very large. The kaolin grinding production line is a complete set of preparation equipment for processing kaolin. The main equipment includes crushers, conveying equipment, grinding mill machine, pulse dust collectors, collection systems and packaging production lines, which can basically meet the entire processing process of kaolin raw materials from crushing to final packaging.
It should be noted that tha kaolin grinding mill needs to be selected according to the particle size range of the kaolin after grinding. If the finished product is to be processed to 80-600 mesh, the raymond mill can be used. If the finished product is to be processed to 320-2500 mesh, it is recommended to exceed ultrafin grinding mill. Of course, some factors such as production capacity, moisture, and configuration location need to be considered. Therefore, it is recommended to consult the mill brand manufacturers to provide needs for professionals to design a kaolin grinding production line. These are more targeted and systematically guaranteed.
If you are interested in kaolin grinding mill, please click on the online customer service for a detailed consultation.
Related News...
What kind of crusher is used for basalt crushing and sand making?2023-09-24
Sand and gravel crusher2023-09-22
Elevate Your Road Construction Projects with Our Cutting-Edge Grinding Mills2023-09-08
300-500 t/h pebbles and gravel crushing process2023-08-30
200 tons per hour iron ore crushing processing equipment2023-09-24
600 mesh carbon black grinding machine2023-08-27
Barite powder making process and barite grinding mill recommendation2023-08-17
Calcite Grinding And Using2023-08-16