GROUP
NEWS
Petroleum coke processing technology
Petroleum coke (PETroleum coke) is a product obtained by the process of separating light and heavy oil from crude oil by distillation and then thermal cracking of heavy oil. It is the final "waste" in the petroleum refining process. According to different forms, it can be divided into needle coke, projectile coke or spherical coke, sponge coke and powder coke. Replacing heavy oil with petroleum coke as fuel is also a good way to apply new energy.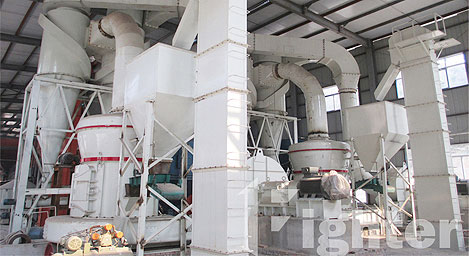 1.Crushing stage: The bulk materials are crushed by the crusher to the fineness (15mm-50mm) that can enter the mill.
2.Grinding stage: Small pieces of materials that meet the grinding conditions are uniformly and quantitatively entered into the MTW serie pendulum roller mill's grinding chamber of the mill through the conveying and feeding system, and are ground into powder in the grinding chamber. (Common size is about 200 mesh)
3.Classification stage: The pulverized materials are classified by the powder separator with the system airflow, and the unqualified powder is classified by the powder separator and then returned to the main machine grinding chamber for re-grinding.
4.Powder collection stage: the powder that meets the fineness enters the powder collection system with the air flow through the pipeline, the air powder is separated, and the finished powder is sent to the finished product silo by the conveying device, and then uniformly packed by a powder tanker or an automatic baler.
Related News...
The equipment for mineral powder production line with an annual output of 50,000 tons2023-11-22
Promote joint construction of green mines and low-carbon development2023-11-16
200-400 mesh calcite grinding equipment2023-11-08
Fighter Russia office moved to Moscow2023-11-02
What crusher is used for bluestone crushing?2023-11-22
The equipment for metal ore processing2023-11-16
Complete vermiculite grinding production line configuration2023-11-15
What equipment should be used for granite crushing processing?2023-10-30