GROUP
NEWS
Fighter won the title of "Thirteenth Five-Year" Technological Innovation Model Enterprise in China's Heavy Machinery Industry
Recently, the 8th Second Member Congress and Council of China Heavy Machinery Industry Association was successfully held in Beijing. The meeting invited more than 400 well-known domestic enterprises, universities and other related units such as China First Heavy Industries, CITIC Heavy Industries, Northern Heavy Industries, and the Ministry of Industry and Information Technology relevant leaders from government departments and China Machinery Industry Federation attended the meeting and made important speeches.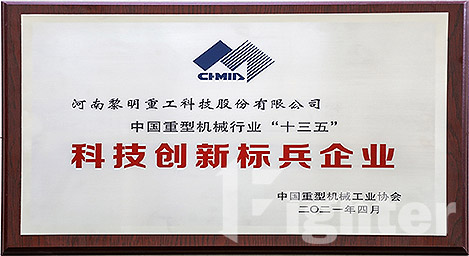 During the "13th Five-Year" period, the enterprises that have made great achievements and outstanding contributions in technological innovation in the industry were commended. On the basis of voluntary declaration of enterprises and strict evaluation of experts, they were reviewed by the Second Standing Council of the Eighth Session Approved, and awarded Fighter and other units the honorary title of "Thirteenth Five-Year" Technological Innovation Model Enterprise in China's Heavy Machinery Industry.
This conference is a grand event for China's heavy machinery industry and has important guiding significance for the future development of the industry. This award is not only a recognition of the scientific and technological innovation strength of Fighter, but also a high degree of recognition of the Fighter brand. As an opportunity, relying on the company's post-doctoral scientific research workstations, academician workstations, provincial engineering technology research centers and other research and development platforms, continue to increase investment in scientific and technological innovation, continue to absorb advanced technological concepts, adhere to the transformation of scientific and technological innovation results, and promote China's heavy machinery industry Scientific and technological progress makes due contributions.
Related News...
What kind of crusher is used for basalt crushing and sand making?2023-09-24
Sand and gravel crusher2023-09-22
Elevate Your Road Construction Projects with Our Cutting-Edge Grinding Mills2023-09-08
300-500 t/h pebbles and gravel crushing process2023-08-30
200 tons per hour iron ore crushing processing equipment2023-09-24
600 mesh carbon black grinding machine2023-08-27
Barite powder making process and barite grinding mill recommendation2023-08-17
Calcite Grinding And Using2023-08-16