GROUP
NEWS
Limestone crushing production line with an output of 60-100 tons per hour
The bar feeder of the system also has a pre-screening function, which can separate the fine-grained materials in the raw materials in advance and directly enter the subsequent crushing equipment, and can also pre-separate the soil debris in the raw materials as waste materials.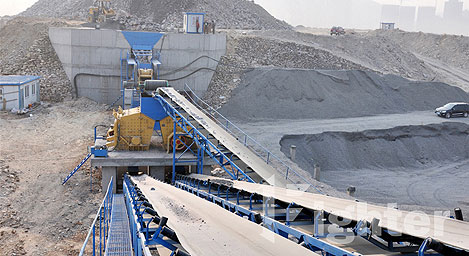 1.The first stage: It can handle the stone smaller than 425mm and evenly convey it to the jaw crusher through the bar feeder. The particle size of the finished material is 50-120mm.
2.The second stage: the impact crusher is subjected to secondary crushing through the belt conveyor, and the mixed aggregate smaller than 35mm is obtained.
3.The third stage: the aggregate smaller than 35mm is transported to the screening workshop for classification and screening, and the material particles larger than the demand are returned to the impact crusher.
This production line has simple process, small footprint, large crushing ratio of system equipment, high production efficiency, low operating cost, uniform particle size distribution of finished products, and good particle shape, which meets the requirements of various fields of the construction industry for aggregates used.
Related News...
The equipment for mineral powder production line with an annual output of 50,000 tons2023-11-22
Promote joint construction of green mines and low-carbon development2023-11-16
200-400 mesh calcite grinding equipment2023-11-08
Fighter Russia office moved to Moscow2023-11-02
What crusher is used for bluestone crushing?2023-11-22
The equipment for metal ore processing2023-11-16
Complete vermiculite grinding production line configuration2023-11-15
What equipment should be used for granite crushing processing?2023-10-30