HOME | CASE | Kenya River Stone Mobile Crushing Production Line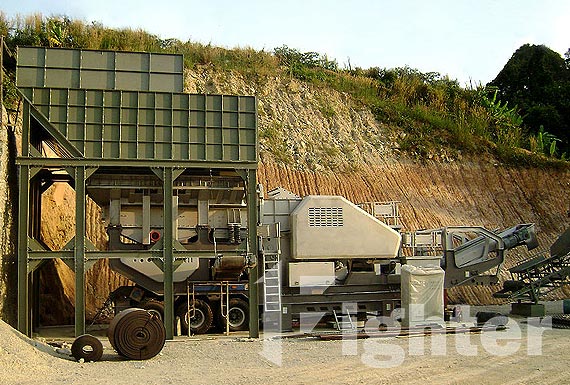 Kenya River Stone Mobile Crushing Production Line
Equipment: Mobile coarse crushing station KE600-1, mobile medium and fine crushing station KF1214-2
Place of use: Kenya
Processed material: river stone
Input size: 500mmOutput size: 0-6mm 6-10mm 10-14mm 14-20mm
Capacity : 80T/H
Fighter Corporation's mobile crushing staion equipment provides customers with simple, efficient and low-cost project operation hardware facilities, and the finished product is cubic without tension and cracks, and has a very good grain shape, which meets the needs of the finished product for highway construction.
We are equipped with mobile crushing production line of mobile coarse crushing station KE600-1 (vibrating feeder TSW0936+jaw crusher PE600×900) and mobile medium and fine crushing station KF1214-2 (impact crusher PF1214+ vibrating screen 4YZS1860). The vibrating feeder sends materials below 500mm into the jaw crusher for primary crushing, and then into the impact crusher for secondary crushing. The finished products 0-6mm, 6-10mm, 10-14mm, and 14-20mm required by customers are screened through the vibrating screen.
Customer Reviews
The Chinese government has many aid projects in our country, which builds a sense of trust in Chinese companies. When the project started, we contacted Chinese companies as soon as possible. Both equipment belong to the K series tire type mobile crushing station, with excellent quality, high efficiency and considerable income.