GROUP
NEWS
How to operate the stone crusher production line more safely
1. When starting the main motor, pay attention to the ammeter on the control cabinet. After 30-40s of starting peak current, the current will drop to the normal working current value.
2. During the normal operation of the stone crusher production line, it should also be noted that the current should not exceed the specified value for a long time.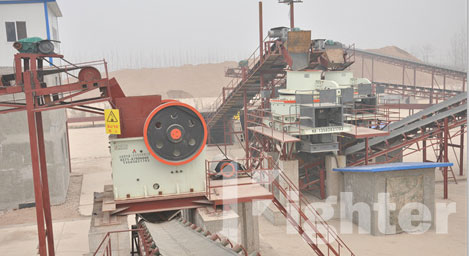 3. After the jaw crusher is in normal operation, the feeder can be started, and according to the size of the material block and the operation of the jaw crusher, the conveyor belt of the feeder can be adjusted to change the feeding amount. Usually, the height of material accumulation in the crushing chamber is more than 2/3 of the height of the crushing chamber. The diameter of the material block should not exceed 50%-60% of the width of the feeding port, and the production capacity of the jaw crusher is high at this time. When the material block is larger, it will cause blockage and affect normal production.
4. It is necessary to strictly prevent metal objects (such as shovel teeth, crawler shoes, drill bits, etc.) from entering the jaw crusher to avoid damage to the machine. When they pass through the jaw crusher, the operator at the next post should be immediately notified to take them out in time to prevent entry into the second stage crusher system caused the accident.
5. When the electrical equipment automatically trips, if the reason is unknown, it is strictly forbidden to force the continuous starting of the crushing equipment.
Related News...
The equipment for mineral powder production line with an annual output of 50,000 tons2023-11-22
Promote joint construction of green mines and low-carbon development2023-11-16
200-400 mesh calcite grinding equipment2023-11-08
Fighter Russia office moved to Moscow2023-11-02
What crusher is used for bluestone crushing?2023-11-22
The equipment for metal ore processing2023-11-16
Complete vermiculite grinding production line configuration2023-11-15
What equipment should be used for granite crushing processing?2023-10-30