The dry sand production line is usually composed of vibrating feeder, jaw crusher, impact crusher (sand making machine), vibrating screen, powder separator, belt conveyor, centralized electric control and other equipment.
The sand-making production process uses three-stage crushing, one-stage crushing uses two jaw crushers, two-stage and three-stage crushing uses two cone crushers (divided into coarse and fine cavities), and sand-making uses two vertical shaft impact crushers. Equipped with belt conveyor, feeder, powder separator, material warehouse, etc.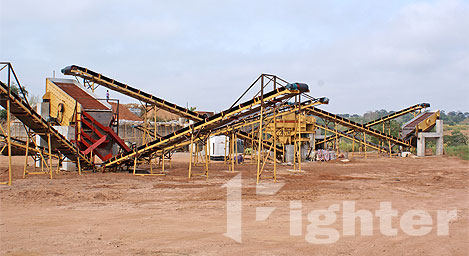 1.Sand making by crusher
The coarse material is initially crushed by the coarse crusher, and then the coarse material produced is transported by the belt conveyor to the fine crusher for further crushing, and the finely crushed stone enters the vibrating screen to screen out two kinds of stones. The pebbles that meet the granularity of the sand making machine feed into machine-made sand, and the other part is returned to be finely broken.
2.The powder concentrator removes the mud powder
After passing through the powder separator, the mud powder in the artificial sand can be removed to meet the standards of construction sand, and the content of stone powder in the artificial sand can also be controlled within the national prescribed range by the powder separator, thereby improving the compression resistance of concrete Strength and workability of concrete.
The dry sand production line uses a high-efficiency concentrator to separate sand and powder. There is no need to add a lot of water to clean during the production process, and the overall production cost will be relatively low.