Basalt stone has the advantages of wear resistance, low draft, poor electrical conductivity, strong compressive resistance, low crushing value, strong corrosion resistance, and asphalt adhesion, so basalt is the best raw material for building roads, railways, and airport runways .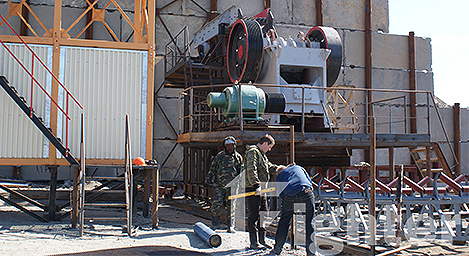 Production line configuration: vibrating feeder + jaw crusher + cone crusher + vibrating screen
Crushed material: basalt
Output: 100T/H
Project overview: The basalt is evenly sent to the jaw crusher by the vibrating feeder for preliminary crushing. The cast steel frame and the movable jaw can effectively crush the high-hardness basalt. The coarsely crushed basalt is transported by the conveyor to the cone crusher for further crushing, which can effectively crush the basalt, and at the same time requires less downtime and maintenance than the impact crusher, improving the stable production progress. The finely crushed basalt aggregates are sent to the vibrating screen for screening, and the finished aggregates and return materials of different specifications are screened out, and the unqualified basalt is returned to the cone crusher for further processing.
A reasonably configured basalt production line can not only effectively crush stones, improve the output and quality of aggregates, but also reduce unnecessary wear-resistant parts loss, helping investors recover their investment as soon as possible and gain profits.
As a manufacturer of various high-quality crushers, we can customize different basalt crushing production line plans to meet the high-quality aggregate needs of different markets. There is also a complete after-sales service system to solve your worries.