Before granite is used, it must be crushed and sand-made. Therefore, the complete set of granite stone crushing production lines have been widely used.
The granite stone crushing production line can process four kinds of sand and gravel products of 0-5mm, 5-10mm, 10-20mm, and 20-30mm. The processed granite is mostly used in high-demand infrastructure fields.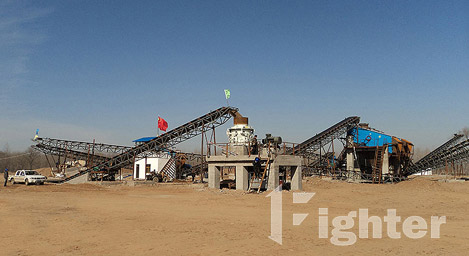 Complete equipment configuration of 200 tons/hour granite crushing production line:
Raw material bin→ZSW380×96 vibrating feeder→PE750×1060 jaw crusher→conveyor→HPT200 cone crusher→conveyor→intermediate silo and 600×500 feeder→conveyor→VSI6X8015 sand making machine)→conveyor→2Y1848 Vibrating screen→XSD3016 sand washing machine→conveyor
The granite stone crushing production line has a variety of configuration forms, and the specific production line quotation is determined according to the specific equipment configuration. The technical engineer will fully combine the user's discharge fineness, raw ore characteristics, budget, site conditions and other details to configure a suitable granite stone crushing production line for the user.
Only a granite crushing production line with complete configuration, reliable quality and after-sales guarantee can bring long-term high returns to users. To understand the specific quotation, please consult our customer service, we have professional engineers to design and make a quotation tailor-made for you for free!