In the crushing equipment, there are many types of crushers, all of which have different advantages and disadvantages. The materials to be crushed are also different. The selection of the type of crusher equipment and the determination of specifications are mainly related to the physical properties (hardness, density,viscosity,clay content,moisture,ore feed particle size etc.) of the ore to be processed, processing capacity, crushed product particle size, and equipment configuration and other factors.The selected crushing equipment must meet the crushing product size and design processing capacity, generally not greater than 0.8-0.85 times the width of the crusher feed port; the medium and fine crushers are not greater than 0.85-0.9 times.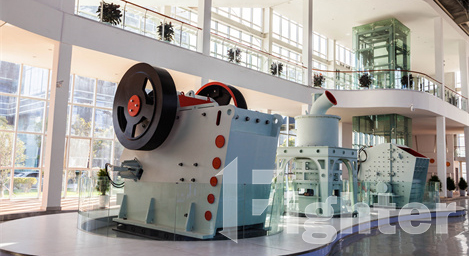 Choose according to the physical properties of the ore to be processed:
For very strong or quite strong, fine and tough ores with high hardness such as quartzite, basalt, granite, etc., it is necessary to choose crushing equipment with strong crushing capacity (jaw crusher), If other crushers are used for hammering and grinding, the machine will be severely worn.
Some ores with medium hardness, such as clay rock, unsteady limestone, sandstone and other types of ores, can be crushed by jaw crusher, heavy hammer impact crusher, roll crusher, impact crusher, hammer crusher, etc.The optional range is relatively wide.
For ores with relatively weak compressive strength, such as shale, gypsum, anthracite, ordinary marl, broken sandstone, cemented conglomerate, broken shale, etc., it is not necessary to use a jaw crusher for crushing. Hammer crusher, roller crusher, impact crusher, cone crusher, compound crusher are all available.
In terms of the water content of the ore, the ore with too much humidity is not suitable for hammer crushers with grating plates that are discharged from the grating plate holes, such as clay-based mixtures. For brittle ore, it is not suitable to use a grinding crusher, otherwise there will be too much fine grinding in the product, so an impact crusher should be used for such ore.