The hardness of feldspar is generally about 6-6.5, and the specific gravity is about 2-2.5. It is mostly transparent or translucent. Because it contains potassium, sodium, calcium, barium and other elements, it has a variety of colors. The main component is potassium, albite, anorthite, barium feldspar, at a high temperature of 1100-1300 ℃, chemical properties are stable, feldspar has a fluxing effect, often used in the manufacture of glass and ceramic glaze flux, or with other mineral raw materials are used to prepare enamel.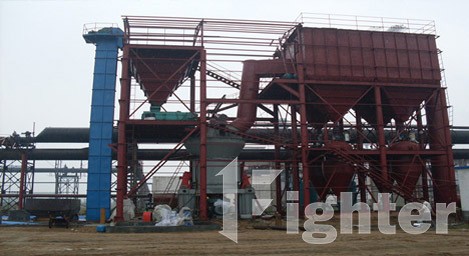 The main industrial uses of feldspar:
1. How to use the characteristics of feldspar for application
Using the characteristics of feldspar in industrial applications, the treatment of feldspar is relatively strict. Generally, feldspar is required to be as pure as possible, free of impurities, free of iron or only a small amount of iron, and the fineness is below 200 mesh. After calcination at 1130℃, it can be melted into a white transparent glass body.
To achieve the purity of feldspar, it is necessary to have professional equipment for grinding. Now the pain point for the feldspar industry is that large-scale grinding equipment usually uses steel for casting. During the grinding process, there will be more or less equipment wear. This will affect the purity of feldspar and affect its quality. Fighter's vertical mill can apply special patch treatment to the grinding roller and disc for the grinding of feldspar. While ensuring the powder density, it also guarantees the iron content in the feldspar.
2. According to the characteristics of feldspar, the mill is specified
The LM vertical mill is a high-efficiency and energy-saving milling equipment integrating drying, grinding, grading, and conveying developed by Fighter for more than 20 years. It has high grinding efficiency, low power consumption, large feed size and fineness is easy to adjust, the equipment process is simple, and the footprint is small.
Feldspar Vertical Mill-LM Vertical Mill
Feeding size: 50mm
Powder fineness: 100-325 mesh
Output:9-70t/h
Applications: Grinding and processing of non-flammable and explosive materials with humidity within 6% and Mohs hardness below 7 in the fields of papermaking, rubber, medicine, food and chemical industries.