GROUP
NEWS
Efficient basalt crushing and sand making equipment
There are many types of basalt crushers. Different types of crushers play different roles in the processing of material. Generally, the crushing process of basalt is divided into three stages: coarse crushing, medium crushing, and fine crushing (sand making).
Basalt coarse crushing equipment, jaw crusher is suitable for basalt processing. The feed size can reach 1000 mm, and the production capacity can reach 600 tons per hour. It can be combined with cone crusher, impact crusher, sand making machine, etc.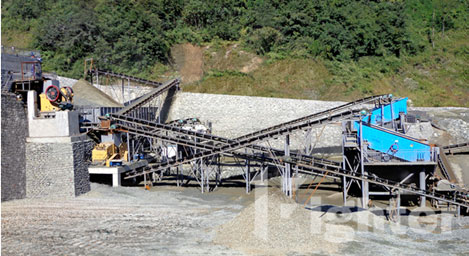 The secondary and fine basalt crushing, such as cone crusher, impact crusher, hammer crusher, etc. Because basalt has a strong hardness, it will affect the wear-resistant parts such as plate hammer and impact plate during the crushing process. The wear of the cone crusher is more serious. Therefore, the cone crusher is a good basalt crushing equipment, mainly used for basalt crushing operations.
Basalt fine crushing, sand making machine serie VSI and other sand making types are available to choose. It uses the principle of "stone-on-rock" or "stone-on-iron" to achieve stone crushing. During the sand making process, the friction between basalt and wear-resistant parts is reduced, which can reduce machine wear.
Related News...
Fighter Corporation is committed to hard rock aggregate preparation process and intelligent control technology2022-09-23
The 2nd China (Zhengzhou) International Sand, Gravel and Tailings and Construction Solid Waste Treatment Technology Exhibition was grandly opened2022-08-30
MTW215 european trapezium mill has been put into use in dolomite grinding production line in Thailand2022-08-05
Large jaw crusher promotes the rapid process of infrastructure construction2022-07-29
What is the laminating crushing of cone cruher?2022-09-30
How to produce high-quality sand and gravel aggregate?2022-09-23
How to operate the stone crusher production line more safely2022-09-20
200 mesh bentonite grinding equipment and process flow2022-09-19